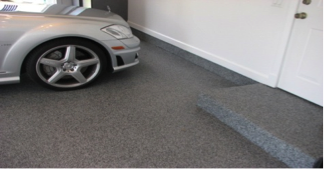 Quality garage flooring doesn't require sacrificing style for function. There are a number of custom color and texture options to fit every style, no matter what your tastes. Instead of boring, go for bold, elegant or just plain fun. Here are a few of our favorite color options.
Neutral Colors with Decorative Chip
This flooring offers the look of high-end granite in a highly durable floor covering. A great choice for showrooms and outdoor entertaining areas, neutral colored decorative chip gives you elegance and durability without sacrificing either.