It is time to answer an honest question: how safe is your garage for your children? Garages are the site of many home injuries, simply because the space has not been properly childproofed. Follow these four steps to make your garage safer for kids and more useful for you.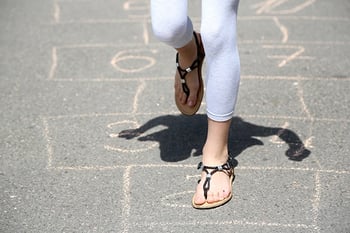 1. Use a Sensitive Garage Door Opener
The garage door can wreak havoc with kids in the garage. Is your garage door opener sensitive enough to stop when a child puts a leg under the closing door? There is an easy way to tell. Set a small block of wood, about 2" tall, in the garage door's path. If the garage door does not automatically stop and go back up, you need a model that is more sensitive. You can even purchase openers that have optical sensors, designed to detect movement nearby.
2. Hide Hazardous Materials
More than perhaps any room, the garage is home for all kinds of potential trouble for kids. From pesticides, paint cans and antifreeze to power tools and hedge trimmers, your children can really hurt themselves if they like to get into things. These items need to be removed from a child's access. Put dangerous solutions and tools in custom garage cabinets that are scratch and stain-resistant, with locks if possible. Clean up any spills of toxic substances. Antifreeze smells and tastes sweet but is poisonous for children and pets.
3. Try Epoxy Floor Coating for Slip-Free Floors
Once you have removed the riskiest hazards, you can focus on other common problems, such as a slippery garage floor. Kids fall all the time, but a fall in the garage can lead to broken bones or worse. Add an epoxy garage floor coating for a durable flooring option that is resistant to stains and spills. The floor coating does not absorb grease or other spills, so that the floor itself remains slip-free.
4. Install A Childproof Workbench
If you use the garage as a workspace to refinish or build furniture, work with welding equipment or other activities, you need a workbench that is yours alone. Set up your custom workbench with all the tools and materials you need. You can arrange the workbench to keep what you need for your work in a place that is locked up when you are not using it. That way, the kids cannot get into your workbench and play with the tools, blades or other sharp objects while you are not there.
Are you tired of worrying about your kids spending time in the garage? Take these four steps to eliminate the hazards. When you are ready to turn the organization of your garage from "Eek!" to "Excellent!" contact Boston Garage for a
free on-site design consultation.
.