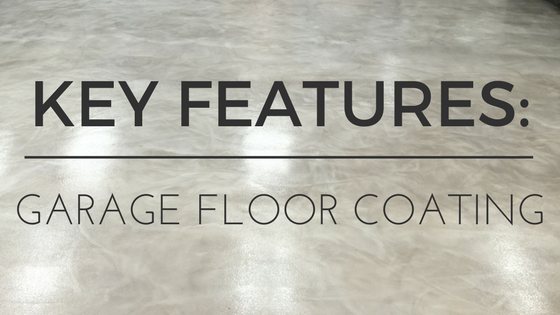 The garage is becoming increasingly important as a way to enter the home. That's why ensuring you have the right look and feel for your garage floor matters more than ever before. But where do you start to improve the floor of your garage and how is it going to benefit you? The answer starts at the ground level: coat your garage floor. Garage floor coating has a multitude of important features that offer a slew of benefits you can use, from safety to improved aesthetics. Here's what you need to know:
1. What Is Garage Flooring?
Before embarking on your home improvement project with your garage floor, it's important to understand what garage floor coating is. It is a protective sealant that you use to coat the surface of your garage floor. It's beneficial as a home improvement option for several reasons, too. It resists impact from dropped items, such as tools, or toolboxes that get dragged across the floor. It also improves the appearance of the floor of your garage by resisting stains from oil and enhances safety thanks to the hard, thick curing of epoxy.
2. Key Features
Garage floor coating offers several key features that you can benefit from. Here are the ones you need to know:
Aesthetics: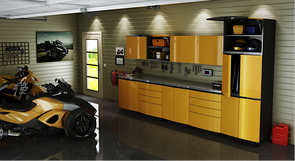 The garage is frequently becoming the main entrance that families and their guests use to enter the house and even trumping the front door as the new "front door" to the home. Moreover, the cracks and visible flaws of concrete and the peeling and lifting of old paint can make your garage floor look dated. You put care in keeping your porch or entry to your front door clean, so your new "front door" shouldn't be any different. That's why enhancing your garage floor with an attractive and easy-to-clean surface is key to getting that "front door" look. It not only makes your home look good on the outside, but it's also a reflection of your home interior's beauty as well.
When you use a garage floor coating, you get to improve the look of your garage floor to achieve that desired look. Just choose the color and texture you want and add in the extra features, such as a non-slip surface, to enhance the safety of the floor as well. That way you and your guests can enter your home from the garage safely and in style.
Concrete "Dust" Sealant:
Dust from concrete can make your garage look and feel dated. But it's even worse when that "dust" gets tracked in your home. You can avoid this when you opt for a garage floor coating. It helps to keep the "dust" out as you enter in your home.
Easy Maintenance: Putting a garage floor coating on your garage floor doesn't require a ton of upkeep. You can easily use a hose to clean the garage floor even during the wintertime to keep winter dirt and road salt from getting tracked into your home. Simply spray the surface clean with a hose, or use a mop for easy maintenance.
Non-Porous Coatings:
Unlike epoxy and stone floors, you can enjoy the dirt-resistant, non-porous quality of our garage floor coatings. Thanks to this feature, you can count on the durability of the floor for years to come. Cement is porous and can absorb moisture. That means things like oil leaks and chemical spills can set in permanently. Basic garage flooring without protective sealants can be hard to clean.
However, garage floor coating simplifies the maintenance process by making it easy to lift grime, oil and other materials that can stain and damage your garage floor. Thanks to the resistant qualities of garage floor coating, you can keep damage from moisture, dirt and grime at bay just by using a water hose or broom.
Slip-Resistant:
Even when your garage floor gets wet, quality garage floor coatings offer great slip resistance.
Various Formulations:
You don't have to be limited to one kind of coating for your garage floor. Our selection provides a variety of resinous polymer formulations of polyaspartic and epoxy.
Quality Preparation:
Improving the look and durability of your garage floor requires the right preparation. That's why we use preparation procedures that are superior to the typical acid wash. This includes surface preparation using mechanical diamond abrasives for long-lasting wear.
3.
Garage Floor Coating Options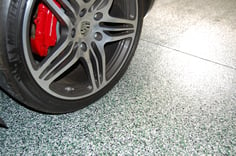 The great thing about choosing a garage floor coating is that you don't have to limit your preferences. There are a variety of color options you can choose from at Boston Garage. You can choose solid colors, including tan, brownstone, medium gray and safety yellow. You can also go for a textured, decorative look, such as the speckled look of titanium, granite and steel blue decorative chip garage floor coatings. You can even opt for custom blends to achieve the look you want.
Keeping your garage floor safe while looking good is easy to achieve when you choose to update it with a garage floor coating. It promotes durability, protects your garage floor from damage from abrasive chemicals or impact from tools and other heavy objects, and enhances the look of the floor in your garage. Consider garage floor coating for your next home improvement project. Want to learn more? Contact us today!