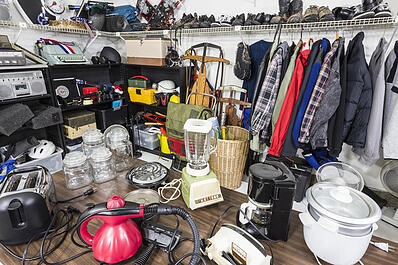 If you ever watch home improvement shows or read magazine articles about garage organization, the process looks relatively simple. However, this is a bit of a misrepresentation for many homeowners. That is because these beautifully organized garages generally contain a car or two and a nice, organized tool bench. For families who have busy lives, children and pets, the chances of this happening can be slim—no matter how many organizational tools and tricks you utilize.
Organization for families is a different matter. While using organizational units will help, it also occurs through hard work, effort and good old-fashioned decluttering. If you are facing a messy garage that no longer serves your family well, consider these tips for organizing the family garage.
Declutter and Declutter Again: Have a yard sale, donate to your favorite thrift store, give to friends and family or just take it to the junkyard—however you choose to do it, get rid of the junk.

Look through your tools and get rid of anything that is in poor repair or that you can't imagine using.

Sports gear is one item that tends to pile up because it could be useful one day. However, remember that if your younger child picks up the same sport, the chances of the gear fitting is very slim.
Find New Storage Areas: If you're using your garage as the only place to store things, you're going to have too much in one small space. Could the Christmas tree be stored in the attic, or could the kids' bikes go in the toolshed? Take advantage of other spaces to make room for the things that must remain more easily accesible for day-to-day activities.
Hang it Up: Installing hooks or hanging bars in the garage can create more space than you imagined! You can hang large tools, bikes and even sports gear and get it off the ground. This will essentially double your effective space or open up the floor so you can walk around more easily and fully enjoy your space.
Shelves: Simple shelving units are affordable. Get the most out of your shelving units by using baskets or plastic tubs along with the shelves. If you can't afford a tool chest, a shelving unit with some smaller containers or drawers can give you the space to put your tools and supplies for a fraction of the cost.
As you can see, it is possible to open up the space in your garage even if you have a family and all the trappings that go along with it. With some hard work and a little motivation, you may have room to park your car in the garage again!
Want to discover more tips for organizing your garage? Check out the following articles: