A custom garage should be exactly that: custom. We strive to help you find the perfect finished product, unique to you, with an integral aspect being the preferred floor type. Floor type is, after all, the most physically contacted portion of your brand new dream garage, so you need it to be exactly up to your standards and specifications. Floor tile is a premium solution for garage floor coatings. Here are seven undeniable reasons why we love using tile flooring to finish off your custom garage:
1. Good looks
The first thing that meets the eye is aesthetics. Our tile flooring material is available in 9 unique colors and in designs that are completely customizable to please the eye. Your garage space may be lit from above, but it is sure to be glowing from the ground up with a new tile flooring.

2. Durability
What good is a pretty floor if it cannot withstand the test of time and the strains of everyday use? We use tile floor that is UV-stable and both chemical and heat resistant, keeping well-lit spaces from experiencing fading and/or corrosion. The tiles utilize an interlocking design technology to fully eliminate gaps and bubbles. They fit together seamlessly. Made from recycled tires, the tiles can handle a compressive strength up to 1250psi, allowing it to withstand highly focused weights and pressures. This stuff is tough!
3. Versatility
The interlocking design is great for durability, but also for delineating sections of the garage. Tile reacts phenomenally under gym equipment, vehicle storage, and even indoor sports (if you fancy an indoor batting cage or driving range net). The tiles can fit garages both small and large. The size of each tile is 12 x 12 x 0.5", and installations are hand-cut, professionally installed to fit perfectly around any perimeter wall. This is a great surface for even the most uniquely shaped structures and rooms. Customization requires professional installation and is a clear winner over DIY garage flooring. Whatever you intend to use your garage for, our versatile tile flooring has you covered!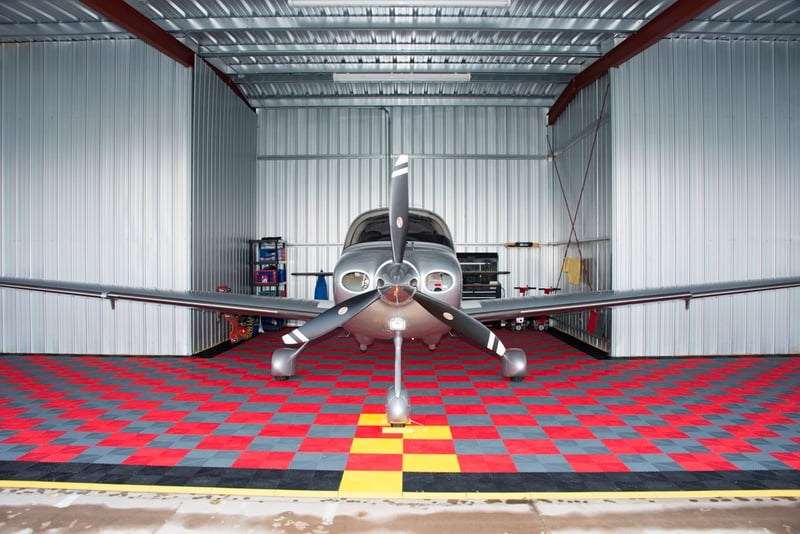 4. Value
Tile garage floor is more than functional and good-looking, it is an investment in your personal property. Resale value of homes with clean and functional garages is proven to be higher than those who never altered a garage with stock flooring. Value is not just measured in dollars and cents, it is measured in enjoyment and peace of mind. Your beautiful, tiled garage will create immediate increases in usage rates, after all, this is why you are building such a beautiful area in the first place. The modular tile itself not only protects what you store above it, but it protects the surface below. The tile we use has a unique ribbed surface and texture that wicks away nasty corrosive materials. The limited lifetime warranty of the tiles themselves will not be found in any DIY installation, so have peace of mind in this investment. Additionally, with our home delivery and installation, you are saving on the potential shipping costs for thousands of pounds of materials that would otherwise be delivered to your home at normal shipping rates. Is shipping really what you want to be spending your money on?
5. Protection
This one goes without saying. Tile floors protect your vehicles, tools/gear, and additional storage items. The perfect tile design reduces chips and stains to your personal property and acts as a containment device for unwanted critters or harsh flak.
6. Commercial Applications
Do not limit your imagination of tile garage floors to a private garage setting. These are fantastic floorings for showrooms of all shapes and sorts. Vehicle dealerships as well as furniture outlets, art installations, and paid sports settings like climbing gyms or batting cages all share a need for this tile flooring.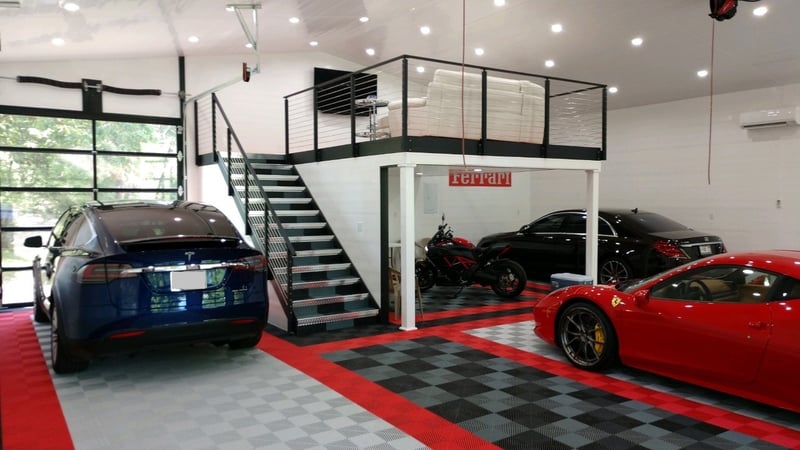 7. Safety
Of course, we saved our favorite reason for last. We LOVE how safe these tile floors render a garage. Not only are they safely installed by professionals with 20 years of experience in a way that eliminates DIY injuries, but floor prep before installation is INCLUDED. The tiles are non-slip when wet, so stand and move about assuredly: no need to tip-toe on these surfaces! Of course, your finances are another aspect worthy of keeping safe. Our previously mentioned limited lifetime warranty affects not only the tiles, but it extends to the floor underneath as well. This is not a flooring type that will hit you like a monthly subscription service; this truly is a smart buy.
These seven reasons are, without a doubt, our top reasons to install a tile floor in your custom garage. With tile flooring, you will easily increase the looks, durability, versatility, value, protection, applications, and safety of your garage, and you are sure to leave with a smile on your face, knowing you made the right decision with your beautiful space. Contact Boston Garage today and request a free on-site consultation. We'd love to help you make your garage dreams come true!