Well-designed garage flooring can significantly enhance your overall space, transforming it into a functional and appealing area. Gone are the days when the garage floor was a neglected concrete surface.
Today, innovative garage flooring ideas offer many options to improve this space's aesthetics and functionality. In Boston, where homeowners value practicality and style, specific ideas are tailored to the area's unique needs.
Whether for personal use, storage, or as a workshop, Boston residents can explore these various flooring options that protect the concrete and add a touch of sophistication to their garage.

What Are the Benefits of Premium Garage Flooring?
Garage floor coatings offer numerous benefits that greatly enhance your space. Some are below:
Enhance garage aesthetics with epoxy coatings or interlocking tiles to create a visually appealing surface that complements your home's overall design. It enhances the overall appearance of your garage floor.
Garage floor coatings offer increased durability and protection for concrete, resisting stains, chemicals, and abrasions. It is crucial in Boston, where extreme weather conditions and road salt can damage garage floors.
With slip-resistant surfaces, modern garage flooring improves functionality and safety, lowering accidents in greasy or damp circumstances. Modular tiles provide excellent insulation, improving the garage's comfort and energy efficiency.
Investing in premium garage flooring may raise your home's future worth. A well-kept and aesthetically pleasing garage is frequently valued by prospective buyers, giving your property an advantage in the competitive Boston real estate market.
Popular Garage Flooring Options
If you're planning a garage floor revamp in Boston, there are several options available that not only improve functionality but add to the aesthetic appeal of your garage.
Let's look at some popular flooring options for garages.
Epoxy Coatings
Epoxy coatings are a popular choice for garage flooring because of epoxy's strength, beauty, and protection. It offers a smooth, glossy surface that is stain, chemical, impact, and abrasion resistant. It is also simple to clean and maintain.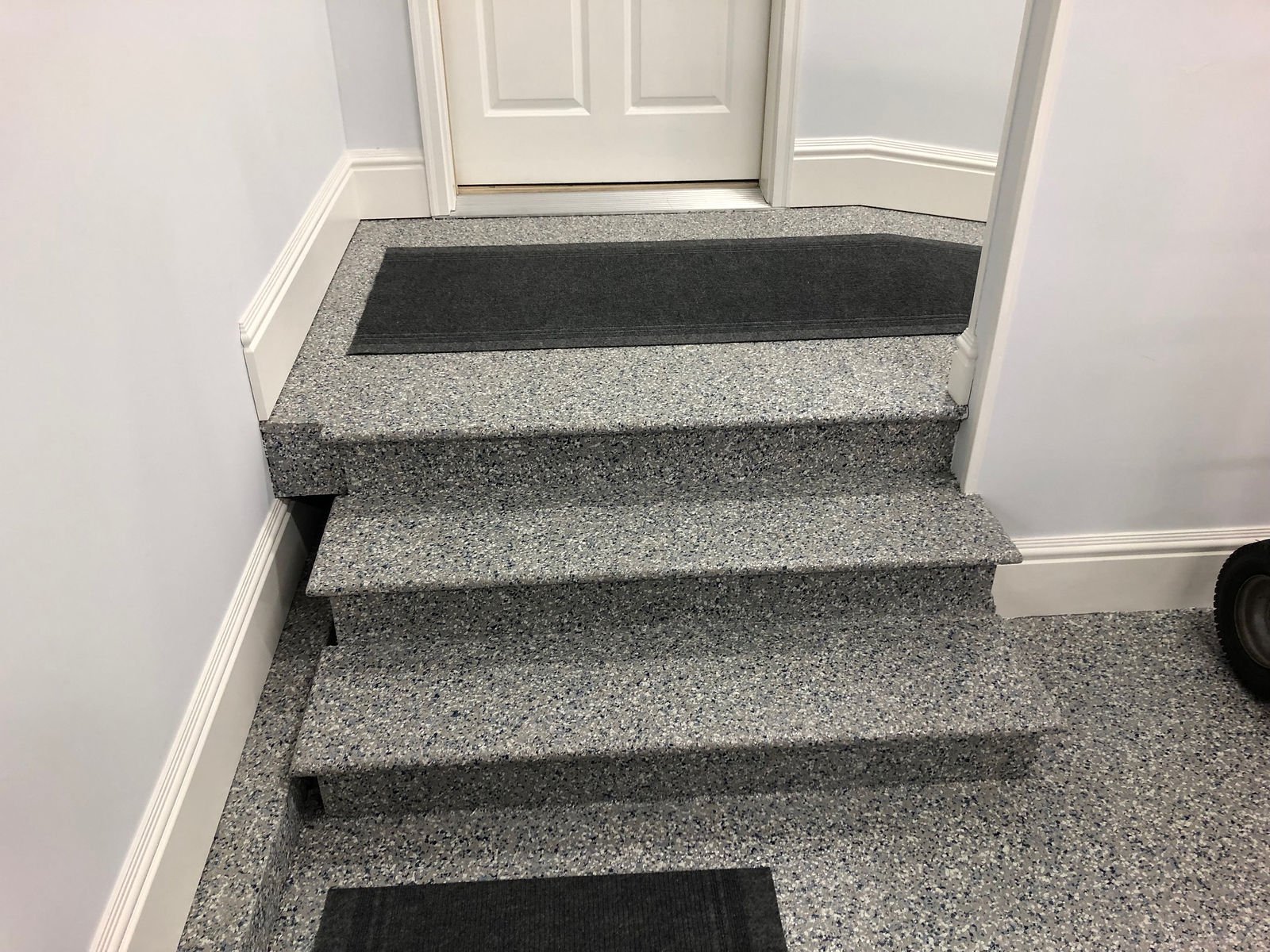 Modular Tile Systems
For a flexible, simple-to-install garage flooring option, consider modular tile systems. Constructed of hardy materials like PVC or polypropylene, these systems provide a functional surface that's simple to install, highly customizable, extremely durable, resistant to stains and chemicals, and able to handle high vehicle traffic.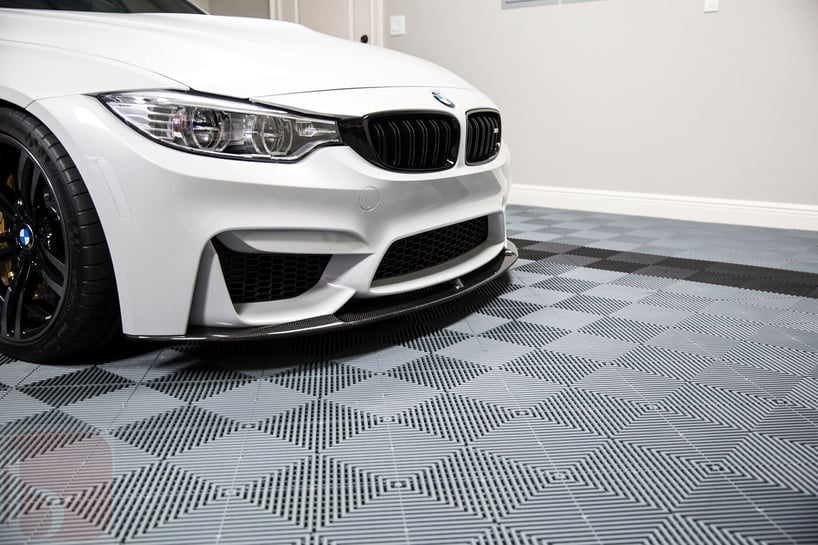 Rubber Flooring
Rubber flooring is a popular choice for garage spaces, offering comfort, durability, and safety. It provides excellent cushioning, is resistant to spills, stains, and chemicals, and offers a non-slip surface. Local suppliers and installers offer a variety of rubber flooring options, ensuring professional installation and enhancing garage spaces.
Unique Garage Flooring Ideas
Sports-Themed Flooring
Boston sports enthusiasts can showcase team spirit by incorporating sports-themed garage flooring with logos or colors. Are you a Bruins fan? Do you go crazy for the Red Sox? We can design epoxy coatings to show off your favorite team, creating a vibrant, personalized space. Adding these elements creates a unique and eye-catching look.

Custom Graphics and Designs
Collaborate with local artists or graphic designers to create custom graphics and designs showcasing Boston's landmarks and iconic symbols. Boston-specific designs, like the Fenway Park scoreboard, Zakim Bridge, or Paul Revere silhouette, can be integrated into garage floors, creating a visually appealing and personalized space celebrating the city's rich history and culture.
Industrial Look
Metallic epoxy or concrete stain can enhance garage floors with a rugged, industrial aesthetic. Metallic epoxy creates a glossy, sparkling finish, while concrete paint mimics aged or weathered concrete, making a striking feature.
Maintenance and Care for Garage Flooring
Maintaining garage flooring in Boston requires proper care and attention to longevity and functionality. The below tips include cleaning recommendations for epoxy coating, care for modular tiles and rubber flooring, and winter-related challenges.
Cleaning and Maintenance Tips
Epoxy Coating
Regularly sweep or dust the surface to remove debris.
Clean spills promptly using a mild detergent and water solution.
Abrasive cleaners and strong chemicals can damage the coating, so avoid using them.
Modular Tiles
Frequently sweep or vacuum to get rid of dust and dirt.
For stains, use a non-abrasive cleaner and a soft-bristle brush.
Inspect and replace any damaged tiles to maintain a seamless appearance.
Rubber Flooring
Clean up any loose dirt and debris using a broom or vacuum.
Use a mild soap and water mixture for deeper cleaning.
Avoid using petroleum-based cleaners that can degrade the rubber.
Winter-Related Challenges in Boston
Epoxy Coating
Protect the coating from road salts by regularly cleaning off any residue.
Use mats or rugs near entry points to prevent tracking salt and snow onto the floor.
Modular Tiles
Inspect for any water seepage or ice buildup beneath the tiles and address it promptly.
Place rubber mats or trays under vehicles to catch melting snow and prevent water damage.
Rubber Flooring
Clear snow and ice from the floor to prevent slips and falls.
Use a rubber-safe ice melt product when necessary, avoiding harsh chemicals.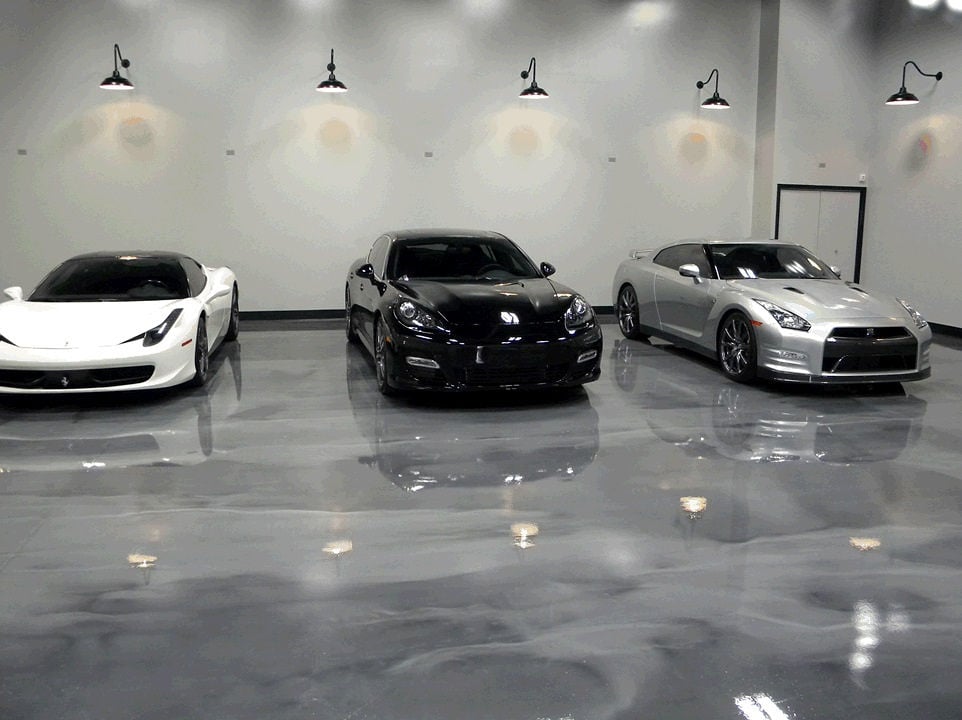 Get a Free Consultation with Boston Garage
Boston Garage is your go-to solution if you're seeking innovative garage flooring ideas to enhance your space. With our expertise and wide range of flooring options, such as epoxy flooring and modular tile, we can help transform your garage into a stylish and functional area.
Contact Boston Garage today to schedule a free consultation and discover how our top-quality flooring options can elevate the aesthetics and functionality of your garage.