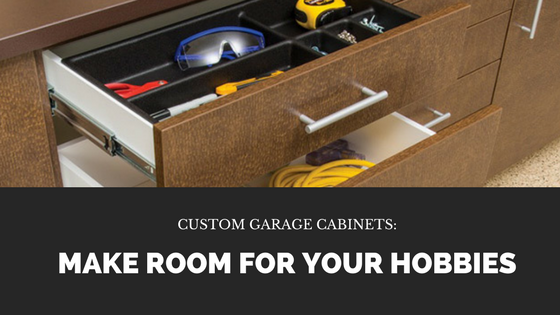 Is your garage a usable space where you can actually park your car and work on projects? Or is it just a storage facility for your hobbies? Are there balls, bats, gardening tools and winter weather gear strewn everywhere?
If you're like many people, your garage may look more like a locker room than a functioning garage. Or your gardening equipment and tools may have taken over the space, preventing the garage from being used for dual purposes.
But it doesn't have to be that way. You can customize your garage to meet your needs. By giving everything a place, you reduce the clutter and free up usable space to work.
By designing your garage to meet your specific needs, you'll be able to unclutter your garage, get items off the floor and make your garage spic-n-span. The best part? You'll actually be able to use your garage for your hobbies and projects.
Garage Cabinets and Your Hobbies
Whether you have big, cumbersome or unwieldy items or tons of tools or small items that are difficult to store, you can design a garage cabinet configuration to fit your lifestyle and hobbies.
Sports Hobbies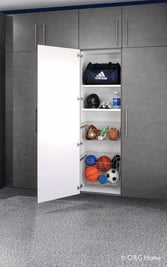 Athletics and sporting activities are a fun way to get some exercise and have a little competition among your friends. But the gear takes up a lot of space. Some of it can be bulky and hard to store. Not a problem when you customize garage cabinets to your exact needs.
You can select a cabinet that allows your golf clubs to slide right into place. Need a place for skis? A cabinet can be designed to accommodate those items, too. Design a cabinet system that includes hooks to hang your bicycles and get them up off the floor. If you have a lot of loose balls and no good place to store them, install a bin within your garage cabinet system where they can be safely stowed until you need them again.
Custom garage cabinets will make your garage a place where you can store your sporting goods and remain functional as a garage. By keeping your garage tidy and organized, you can continue to use it to work on projects, park your vehicles and maybe even hang out!
Gardening
If you like to work in the garden, you've probably amassed an impressive array of gardening tools to help your plants and flowers thrive. If you don't have a gardening shed, you need a place to store these items between relaxing sessions in the garden. Tools like hoes, rakes and mattocks need a cabinet or hook to call home. All those oversize plastic planters and ceramic pots need a space to live in until you're ready to use then again in the spring. Sacks of potting soil, seed packets and trowels shouldn't just be left strewn about the garage. Even your gardening hats and gloves need a hook to hang on when not in use.
Garage cabinets with custom drawers can easily house gardening equipment, giving you a more organized, functional garage space. When your garage is organized, you'll come to see it as another useful room in your house and not just a place to store things until you need them. Your garage will become a refuge where you can launch your gardening hobby.
Crafts
If your mantra is "why buy it when you can make it," you've probably got a pretty good collection of craft supplies and tools. To keep your home from getting cluttered with hot glue guns, craft paper, paints, brushes and Modge Podge, use a custom garage cabinet system to house all of your craft stuff. You'll have the right size space for all your items.
And you can even design a workspace into cabinet system. That way, you'll always have a flat, clean surface on which to work when you discover something clever on Pinterest. With everything organized in your garage, you'll have more room to work, you'll know exactly where your tools and supplies are located and you'll be on your way to creating some great handicrafts.
Work Tools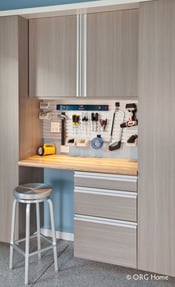 No matter what you use your tools for -- automotive restoration, woodworking, metal art or furniture making -- you need a place to store your tools when you're not spending time in the garage. Use custom-made cabinets to get your tools off the floor and out of the way of your work area. Use pegboards to hang tools so you always have them at easy reach.
By finding the right place for your tools, you'll also find you have much more room to work on your projects. Working on an antique car? Your tools will be right where you need them to get your car running the roads again. Making a beautiful wooden table? The tools you need will be at your fingertips. What about whimsical metal sculptures? You'll have everything you need to create a fun, unique piece that you will enjoy for years to come.
An organized garage means you have more room to do the hobbies you enjoy. Whether it's sports, crafting, gardening or something like woodworking, your garage should be the hub of your activity. By using garage cabinets to store and sort the things you need for your hobbies, you'll find you have the space you need to work, play or just enjoy your garage space.
When you're ready to move forward, please give us at call at Boston Garage. We'll you design and install the right type of cabinet system to meet your needs and give you the garage of your dreams.