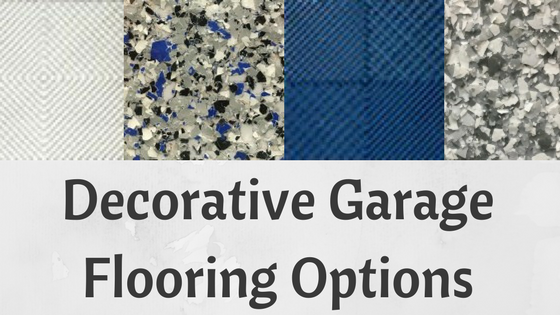 Maybe it's where your prized Mustang sits, where you and friends hang out or where your kids play. No matter what you use your garage for, its floor needs to be functional, durable, smooth and stain-resistant. But you're no longer stuck with the plain, cold concrete flooring of the past – now you can design your garage to reflect your personal style, just like you would the inside of your home. Boston Garage offers a range of decorative garage flooring options for any garage.
Epoxy Flooring
If you sometimes give your garage floor a beating but want it to stay looking smooth and clean, epoxy may be your best option. It's shiny and incredibly durable, not to mention clean. You don't have to worry about oil, grease and other substances destroying an epoxy floor. This coating resists stains, so it stays looking new for years, which means less upkeep for you and a boost for your home's resale value. Epoxy is also easy to clean with soap and water, so you can put all your energy into tackling messy projects rather than the post-project cleanup.
Wondering if epoxy flooring is right for you? Learn more about it here.
Decorative Chip Flooring Options
Love the look of granite countertops? Bring that same modern look to your garage with decorative chip flooring. Flakes of color give your flooring visual appeal and the appearance of texture while masking stains and scuffs. Decorative chip flooring also looks rich and luxurious, giving your garage the feel of a professional showroom – even if you primarily use it to store muddy shovels.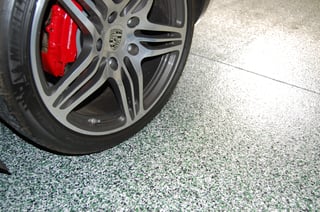 And because you can customize the color blend of your decorative chip flooring, going with this option allows you to perfectly tailor your garage to suit your vision.
Solid-Color Garage Floor Coatings
If you want to create a bold and colorful statement in your garage, opting for a floor coating in a solid color is a good bet. Choose from a huge range of colors, or request a custom blend to create the exact shade you're picturing.
Pick a bright, cheerful shade to finish a garage that doubles as a kids' play area, or finish your floor with jet black to make your cherry red motorcycle stand out. This selection lets you put a truly personal stamp on your garage, and it looks clean and sharp. Additionally, the solid-color coatings we use at Boston Garage are tough and lasting, so you don't have to worry about the color fading or staining.
Garage Floor Tiles
Like solid-color flooring, garage floor tiles allow you to form a completely personalized space. Create a pattern using the colors of your favorite team, alternate black and white tiles for a classic diner look, or lay a single shade throughout. You can even use tiles of different colors to clearly divide the space into zones: say, gray for your workspace and turf green for the hangout area where you watch football.
Finding Your Flooring
With so many durable and appealing flooring choices available, you can create the garage that caters to your specific needs – and earns compliments from everyone who enters. Unsure whether decorative chip flooring is right for you or if epoxy is more your style? Learn more about your decorative garage flooring options by contacting us today to schedule a free on-site consultation.