If you're like many people, you want your garage to look as well-kept as the rest of your home. But if the floor is cracked and stained with oil, paint and dirt, you certainly won't want visitors to venture into your garage. Plus, you don't want to track dirt from the garage inside your home, so it's important that the garage floor be easy to clean, too.
Keep your floor looking shiny and new with one of our affordable custom garage flooring options that will truly make your garage a showpiece! Here are five options to consider.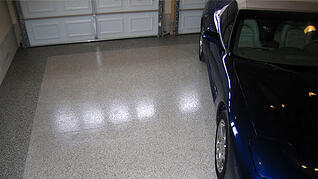 Concrete floor paint
Concrete floor paint is a tougher version of the paint you use on your walls. It's also the least expensive option to use on your garage floor. However, it's not as tough as other coatings. Road salt and other chemicals can eat into the finish, thus damaging the clean look.
Concrete sealers
Tougher than floor paint, sealers are also an inexpensive way to protect your garage floors. However, they wear off quickly so you'll need to reapply a coating every year.
Rollout mats
Very easy to install, rollout mats are a good way to protect the floor from stains and spills. They're highly durable and will last quite a while, but there are some drawbacks. First, rollout mats can be damaged by hot tires and chemicals you might use in your garage. Second, they can become quite slippery when the weather is icy or snowy.
Snap-together tiles
Snap-together tiles are constructed of sturdy plastic and can handle heavy loads. They're easy to clean and more resistant to chemicals than either softer plastic tiles or rollout mats. They are available in a variety of colors to complement your garage's interior. However, they can get slippery during inclement weather and they can be scratched.
Epoxy floor coating
The most expensive of our options is epoxy floor coating. However, it's also the most durable and aesthetically pleasing. When installed properly, epoxy coatings result in a glossy finish that lasts for years, and coatings are available in dozens of colors. Epoxy floors are low maintenance, but you should wipe spills quickly to avoid stains, and avoid using harsh cleaners.
Boston Garage can assist you with a variety of floor coverings, including epoxy floor coatings. To learn how you can make your garage floor look fresh, shiny and clean all year long, schedule a complimentary in-home consultation today.