The garage is a breeding ground for chaos in our houses. After all, they have to serve several purposes for us, such as providing shelter for our vehicles, concealing our tools, stowing our recreational goods, and serving as an entrance to our homes.
If you haven't been paying attention, it's time to give your old garage a facelift. Transform that dark, dreary, spider-infested garage of yours into a welcoming, well-lit area where you and the kids can store and sort all your belongings.
Here are a few tips to help you revamp your garage and make it more family-friendly.
1. Install enough storage to hide away tools
A lot of people use their garages as workshops as well. It's easy for children to mistake tools for playthings despite their inherent dangers. Is there a particular spot where you keep these tools?
Keep all of your hardware and tools in a secure location out of the reach of children.
We recommend storing non-kid-friendly tools in a workbench or locked garage cabinets that the kids can't access. You could use it to store power tools and other hardware. A tool chest or secured toolbox is another excellent option.
If tools are left lying around, they could become a tripping hazard. Your kids might discover them and get hurt. Make sure that electrical equipment is unplugged at all times.
2. Get lockable containers or cabinets for dangerous materials
Keep all chemicals and hazardous substances in your garage locked in a secure cabinet or out of reach. Products including paint, motor oil, pesticides, cleaning products, gasoline, antifreeze, and lawn chemicals fall under this category.
Never put chemicals in milk cartons or juice jugs made of plastic. Children may try to ingest these products, and certain chemicals can corrode through plastic, causing a hazardous leak.
3. Try overhead
garage s
torage for seasonal items
Light to medium-weight seasonal items, such as camping equipment and holiday decorations, can be safely stored in the garage's ceiling. Raise those huge plastic containers to the ceiling of the garage. Putting together a ceiling-mounted storage system for a garage will take no more than a day, and it's one of our most-requested organization systems.
4. Reduce the risk of slipping with epoxy floor coating
An epoxy floor coating to your Boston garage floor might lessen this risk. A decorative chip coating provides a non-slip surface and a great visual appeal that will last for years. Epoxy garage floors have a slight gripping texture that makes them extremely slip-resistant, even when wet.
5. Install sturdy hooks for larger tools
Storage might be problematic for longer, bulkier tools like shovels and ladders. Putting hooks on the wall or suspending them from the ceiling is an excellent method to keep them away from the floor.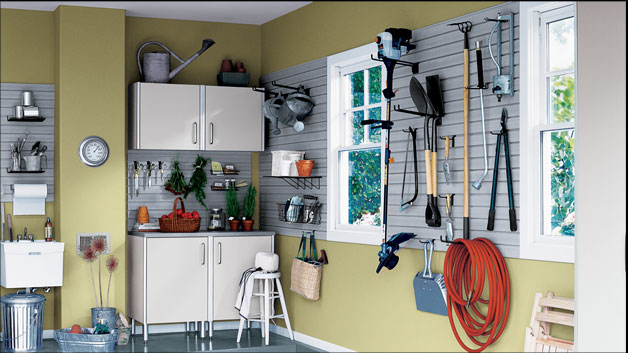 6. DIY tubes can help
Want an inexpensive organization tip you can implement yourself? Cardboard tubes can be great for storing lacrosse sticks, baseball bats, tennis racquets, other long sports equipment, and long-handled tools and rolls of virtually any material. Place the tubes on a 2 x 4 to keep them out of the way, and attach to your garage wall.
These are just a few ideas for making your garage safer and more enjoyable for the whole family. Everything you require to transform your garage into a functional area is at your fingertips, from clever solutions for storing exercise equipment to using otherwise wasted vertical space.
However, there is no universal method for getting a garage in order. Make a note of everything you need and apply these guidelines to figure out how to organize your garage better.
Find reliable garage organization professionals to assist you
Organizing experts like Boston Garage can help you transform your garage into a space your whole family can enjoy. Although cleaning the garage may not seem like a big deal, it can take quite a while. If you want to finally get your garage in order, enlist the help of pros.
Our professionals are here to assist you in optimizing your garage space. To schedule a no-cost consultation, call us at (781) 836-5145 or click the online scheduling link below.