The United States of America and cars have been deeply interconnected since the days of Gerald Ford and his Model T. Cars have provided an economic backbone for our economy, have dictated more city plans than any engineer, and have lit up our teenage minds with intense of emotions of love and freedom. Nothing screams "American Dream" more than a classic car collector's garage full of beautiful vehicles.
As you realize this dream yourself, you are looking for the next step. Maybe you have the car but are only beginning to learn about just how much maintenance it takes to keep up, or maybe you built a dream home around your car's needs. Either way, the fundamental realization of any car enthusiast is that garage upgrades are of the utmost importance. Boston Garage specializes in delighting the discerning vehicle owner with a variety of garage storage, garage organization, and flooring customization options. Here are the top garage improvements for car enthusiasts.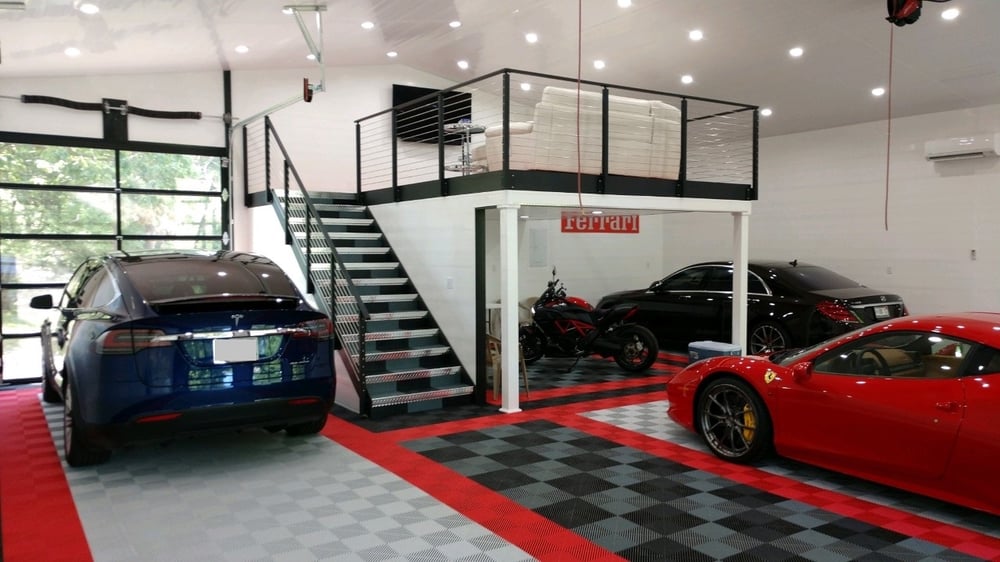 Start with a clean slate
To customize a garage around a car's needs, it is important to think creatively with a clean slate. Take a step back to understand the dimensions of your garage and begin to visualize your prized vehicle in the space. What do you see? Is it a minimalist picture, or is it more realistic, featuring all of the tools, chemicals, gadgets, and accessories needed to keep your car clean and running in top condition? Proper car care comes with a whole lot of stuff, and your garage should be a dojo of zen with regards to how it is stored.
Working from the top down, Boston Garage can keep your space tidy and organized. The most unused cubic space in a garage is the air itself, and we feature overhead storage systems that are strong enough to hold a multitude of tools or equipment. You can rest assured knowing our professional installation is commercially rated and will keep your car resting safe and sound.
Organize with custom cabinets
Moving to the walls, we feature custom cabinets that can fit any space is need and utilize ORG's hefty 3/4" thick vertical panels. Alongside our 1" decks and shelves, do not worry about sagging or delaminating. All of our cabinets are wall mounted off of the floor, to eliminate moisture and unwanted critter issues. This is the best way to ensure that your seasonal fabric car covers are safe from nibbling creatures! We also offer professional grade wall racks, organizers, and hangers. Slat wall storage is of particular use when designed to hold your more cumbersome tools, and are strong enough to keep jack stands elevated and tucked against a wall.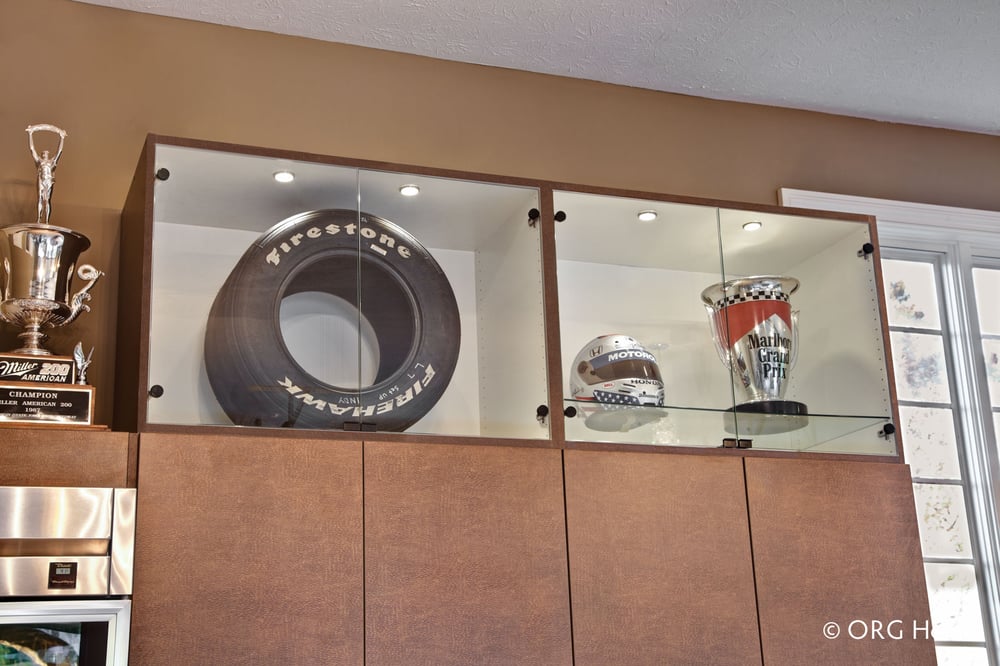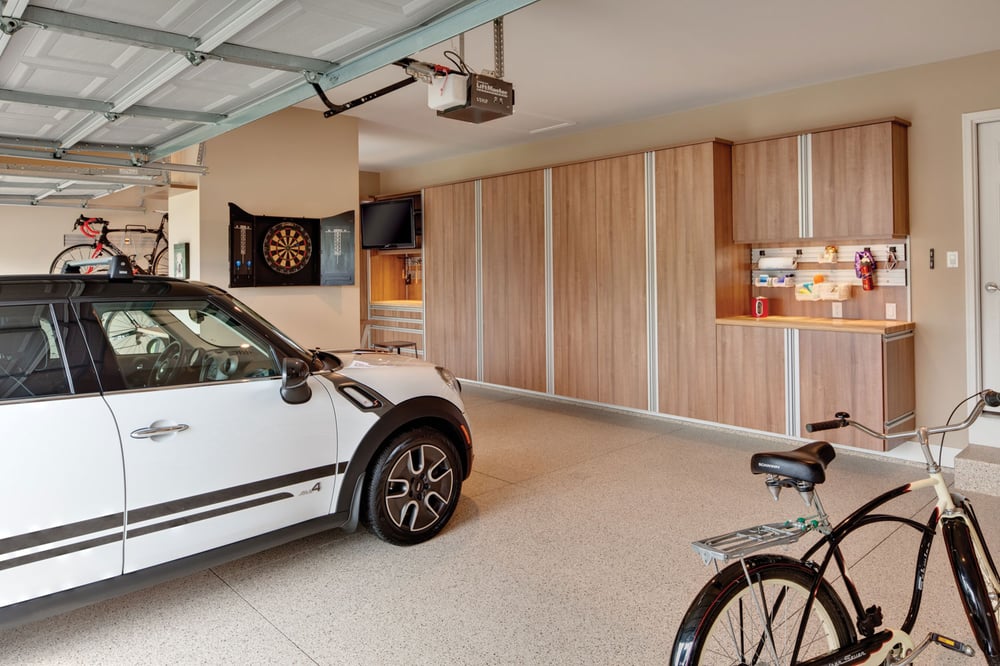 Park your car on flooring that shines
With the organization of your custom garage taken care of, focus should shift to the flooring: the most obvious way to show off a vintage hot rod. The flooring of your custom garage should be just as customizable as your vehicle, so we offer four main types of flooring: decorative chip coating, solid color coating, metallic, and floor tiling. Decorative chip coating is a high-quality, stain resistant surface that offers hundreds of color and size combinations to align perfectly with your wheels. Stain resistance allows for easy cleanup after endless oil and filter changes. Solid coated floors feature a high gloss shine with less color combinations than the decorative chip coating, but still have dozens of options. Solid color coatings are the best "one size fits all" solution and can be useful if your collection consists of different car styles and colors. Metallic floor coatings create unique pearlescent and iridescent effects for maximum pop and shine. With unlimited color options, metallic flooring can be flashy, or can be finished matte for a more restrained look. Truly showroom stuff!
The garage tiles are different from the others because they sit on top of existing flooring as opposed to the other options which are the coatings themselves. Floor tiles are flexible and creative. Geometric designs can frame your car like a painting, or they can be more practical and used to help line up a parking job. The tiles are UV stable and suited for both indoor and outdoor uses. They are also extremely safe: they are non-slip when wet and made from a recycled tire material that is built to last. A mechanics dream surface!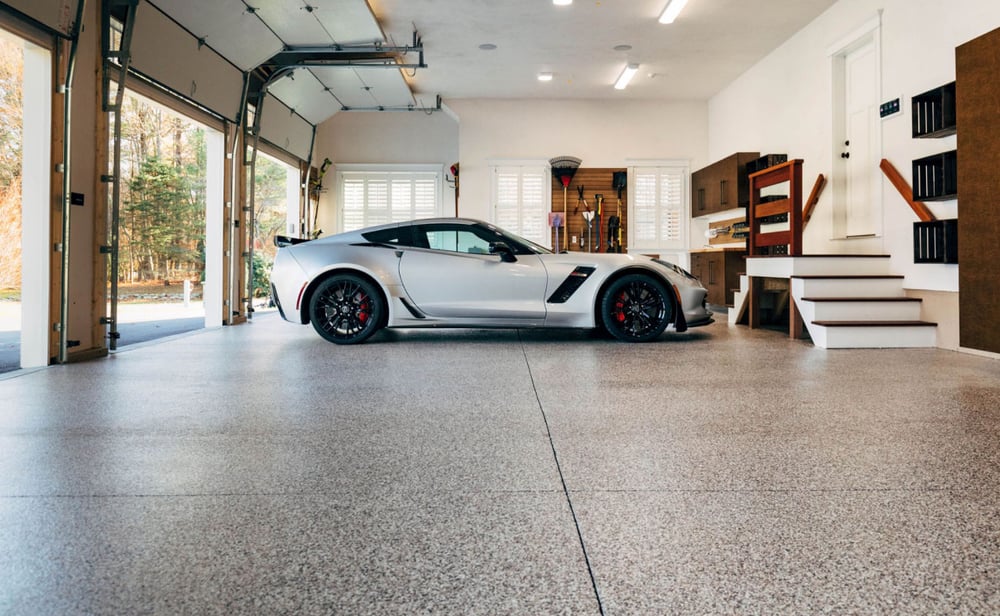 Soak up the beauty of your special vehicle
We understand, your car is your life, so make sure to utilize our custom garage organizational and flooring options to maximize your investment in such a classic car or hot rod. With these tools, your garage will be an amazing setting to show off your vehicle and help give it the attention it needs. They will keep you safe when working on your car, and make it easy to clean up and keep surfaces shining. Schedule a free estimate today!