If you ever find yourself wishing for more space in your garage, there's a solution that doesn't involve tearing down walls. By making the most of your ceilings and walls, you can maximize the space you already have in your garage without undertaking an expensive renovation project.

Let Boston Garage show you how it's done.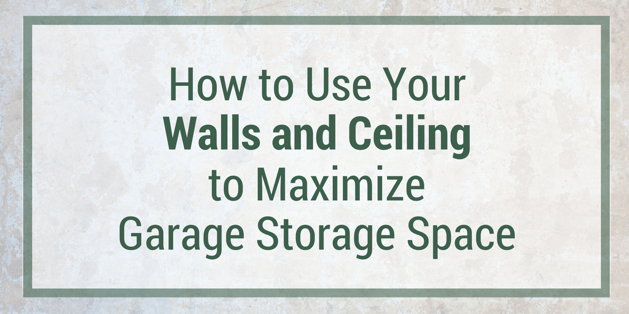 1. Get Rid of Unused Items
The first step is to purge. Get rid of things you don't use or no longer have value. Got an old lawn mower sitting in the corner that you saved for parts? Toss it. Christmas decorations that haven't seen the light of day in 20 years? Donate them. Old bikes? Maybe the neighbor kids would like them.

Take stock of everything in your garage and decide what you really use and what you don't. Then, decide if some items could be better stored elsewhere in your home. Maybe some things are better in the attic or in an interior closet. Others might be better in a basement, crawl space or outdoor storage shed, if you have one. Getting extraneous items out of the garage will make way for tons of new space for storage and garage wall organization.
2. Identify Underused Spaces
Next, utilize the two spaces that most homeowners don't often use -- the walls and ceiling. These two spaces are ripe for storage solutions that allow you to better organize all your stuff.
Overhead storage
Look up and you'll notice how much space is available in your garage's ceiling. It's a great place to stash seasonal items that you may not need for months at a time. Holiday decorations, winter sports equipment, beach chairs and coolers are excellent candidates for overhead storage. However, don't limit yourself to off-season items. There are plenty of things that are better store up, up and away. Ladders, storage totes or fishing poles are good options. What about all those household supplies you bought at the warehouse store? Overhead storage gets them out of the way until they're needed.
Here are some ways to incorporate overhead storage in your garage.
Shelves that suspend from the ceiling offer a great place to store larger bulky items and free up space on your garage floor. Some shelving units can be fixed to a pulley system which allows you to easily raise and lower the shelf to reach your stuff.
A storage loft creates an easily accessible spot to store any number of items. A ladder or set or stairs offers an easy way to get up to the storage area. Luggage, camping gear, out of season clothing and winter boots are good candidates for a storage loft. Read more about storage lofts in this
post on our blog,
and if you want to build one yourself, there are plenty of online tutorials.
Screw large hooks into the ceiling and, voila! You've got a great place to store rope as well as pipe, rebar, metal fence posts and other long, thin items.
3. Look at Your Garage Wall Organization
Garage walls are a blank slate where you can easily create permanent homes for your tools and equipment. Here are some ideas to try.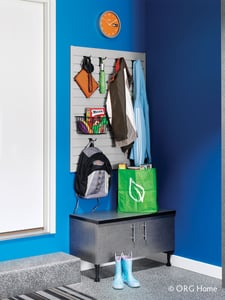 Installing a slat system on the walls gives you the perfect spot to hang vertical items like rakes and brooms. You can also use specialty hooks to hang hoses, large tools and the like on a slat system.
Small storage bins
will also slide right on so you can stow away nuts, bolts, nails or whatever else you can think of. And, slat systems are available in a wide variety of colors to complement your garage's interior perfectly.
Custom cabinetry offers a beautiful spot to store heavier items or items you want to keep out of sight. Paint cans, lawn and garden chemicals, automotive fluids, tools and many other items are great options to go in garage cabinets. You can even install cabinetry with a work surface so you have a truly utilitarian garage. Slat systems can also be incorporated into cabinets. Store smaller items like screwdrivers, pliers and wrenches in the slats and you'll always have the tool you need right at your fingertips.
Custom cabinets are available in a variety of finishes that adds a sleek, modern look to your garage. Coordinate your cabinets with a new epoxy floor coating and you'll have a garage you can be proud of. Review color samples on our
website
.
Get your bikes out of the way by installing either vertical or horizontal bike hooks.
Throw balls, sports equipment, toys or even gardening supplies into a wall mounted basket. Getting these items off the floor not only frees up space but eliminates tripping hazard in your garage.
Don't overlook the ceiling and walls when you're looking for ways to organize your garage. You may never have realized just how easily these spaces can be customized to your needs.
If this sounds like a lot to tackle on your own, call in the professionals. At Boston Garage, we have years of experience helping homeowners create garage storage systems that free up floor space to park a car, work on projects or just hang out. Give us a call and we'll be happy to perform an onsite consultation. Reach us at 781-836-5145 or use our handy
online form
to request a free assessment and quote.