If you're a lot of folks, you spend a lot of time in your garage during the autumn months. Raking leaves, putting away summertime toys and tools and getting your yard ready for winter consume not just time, but space. And by now, it's probably abundantly clear that you need more storage in your garage.
So don't get frustrated with an unorganized garage. Instead, consider these new garage storage solutions for fall.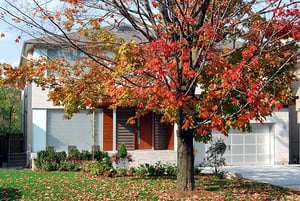 Pegboards and wall hooks
Pegboards and hooks are one of the simplest solutions for tools like rakes, shovels and hoes. Not only do hooks offer an easy storage solution, but they can also make your garage look neat and tidy. Instead of just propping yard tools in a corner, display them neatly on a slatboard or pegboard. It's just more attractive. And by getting yard implements out of the way, you'll have plenty of room to park your car during the cold winter months.
Ceiling-mounted hanger systems
Think the floor is the only place to store large items? Think again. With a ceiling-mounted hanger system, you can get big items up and out of the way, saving precious floor space. Pool toys, foldable lawn chairs, coolers and kids outdoor gear are great examples of items you can store overhead. You should also consider wall-mounted baskets to contain items like balls, gloves and other unwieldy items that need a space to call home.
Custom shelving + slatboards
One-size-fits-all solutions don't work for every family. Look for shelving that fits your garage and meets your family's specific needs. That way, you can integrated custom shelving with either slatboards or custom garage cabinets. You'll create a solution that's unique to you and you alone and you'll make the most of your garage in the fall and throughout the rest of the year.
Cabinets with countertops
Turn your garage into your own workspace by installing cabinets with countertops. You'll have a sturdy place to work on home improvement or hobby projects. And, if you hang tools on a pegboard or magnetic strip mounted above the countertops, you'll save space and have your tools within easy reach.
The need for custom garage storage becomes obvious in the fall when you're looking for ways to store all your summertime tools and toys. Fortunately, Boston Garage can help meet your needs with both top-of-the-line products and high quality installation. Contact us today to start creating your new garage!