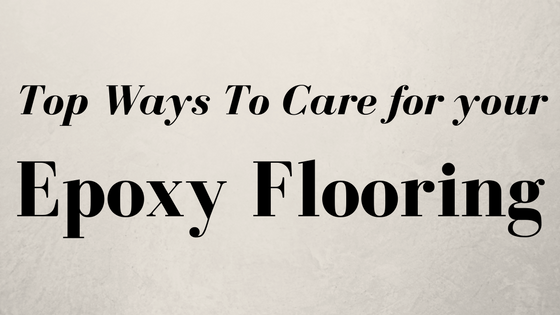 Good news: If you've chosen epoxy flooring, you've picked a floor covering that's sturdy, long lasting and low-maintenance. This garage floor coating is resistant to staining and easy to clean. Still, life happens in your garage, and it can be messy, so even durable epoxy flooring requires some minor upkeep. Properly cared for, your garage flooring should look new for years to come.
Routine Maintenance
Just as you occasionally sweep and vacuum the floors in your home, you should keep your garage floor clear of dust and dirt. Epoxy flooring is smooth and sturdy, so you can use the same tools on it that you would use on your hardwood or laminate flooring indoors.
Once every week or two, use a soft-bristle broom or dust mop to clean the epoxy flooring in your garage. Debris may accumulate around and behind parked vehicles, tools, shelving units and other things you store in the garage, so aim to move these if possible so you can sweep or mop around them about once a month.
Heavy Cleaning
If you use your garage for messy projects or spend a lot of time in there, your epoxy flooring may develop marks and scuffs. Clean these as soon as you notice them to prevent permanent damage to the floor.
First, use a soft broom or mop to gently clean up any debris. Next, try using a stiff brush and water to scrub away the marks. If that doesn't work, try a hard foam mop (not the string kind) and an all-purpose cleaning solution. You can make your own cleaning solution by mixing about 6 ounces (about 3/4 cup) of ammonia into a gallon of water. This makes a 5 percent ammonia solution, which is safe for use on your floors.
Be sure to thoroughly rinse and dry the floor when you're done to prevent slipping.
Tire Marks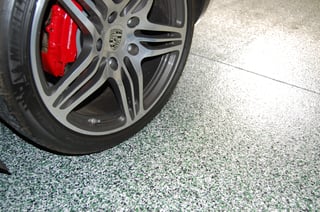 When your hot tires leave oily, black marks on your epoxy flooring, it's important to work quickly to remove them. Try putting some of the ammonia solution on the marks, letting it sit for a few minutes and scrubbing it with a stiff brush. If that doesn't work, you may have more success with a kitchen scrub brush and a degreaser product. Test any degreaser or other cleaner on an out-of-the-way corner of the floor first to make sure it won't damage your epoxy flooring before you use it in a large or prominent area.
And in the future, protect your flooring by placing cardboard, squares of industrial carpeting or heavy-duty protector strips in the areas where you park your vehicles.
What Not To Use
Some cleaners are too acidic to use on epoxy flooring. Specifically, avoid using vinegar or any citrus-based cleaner. They can strip away the finish on the floor. Soap-based cleaners aren't ideal either because they can dull the appearance of your epoxy flooring.
Epoxy flooring is extremely durable; that's why it's often used in machine shops and other high-traffic areas. But while it's easier to clean than some garage flooring options, epoxy flooring does require some minor upkeep. Make it a habit to keep your floor clean of debris and marks to protect the investment you've made in your garage.
Want to learn more about durable epoxy flooring? Contact us today.