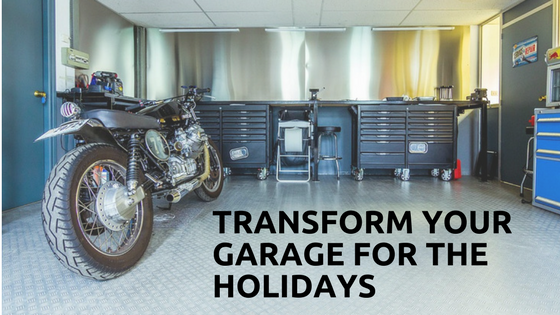 Your garage isn't just for cars or home improvement projects -- during the holiday season, it might become a buffet-style dining room for the entire extended family, a kids' playroom, or a performance venue for your Uncle Bill's bluegrass band. But if your floor is dull, stained, or otherwise unsuitable, the party stalls before it happens. No matter if your garage floor needs a small facelift or major corrective surgery, it's time to learn about the many options in updating what's probably your most neglected floor. The ease of installation and affordability may surprise you. Here are a few ideas for the holidays and the entire year:
Glossy Solid Colors
A protective layer of epoxy, professionally applied, transforms your garage from rugged to regal in a matter of hours. A floor coated in glossy color makes the garage feel warmer and prevents the buildup of oil, grease, and other mechanical residues that cause odors and stains. Easy to mop and wash, a color-coated floor will last for years. Choose your color from a palette of browns and grays or select pure white, red, blue, or yellow. If you have a particular hue in mind or want to match the floor to your exterior siding, it's possible to order a custom shade. Another idea: Choose two or more colors for a modern design such as checkerboard, zig zags, or inset frames.
Decorative Chip Floor
If you love the sophistication of granite and other flecked stones, consider a garage floor that glimmers and shines as it disguises dirt and stains. A stone-effect floor is a good choice for either an external or attached garage, and you can select a style consistent with the other areas of your home. Choose from high-contrast black and white, subtle grays, or a selection of earth tones ranging from light taupes and tans to dark rich browns and russets. Each color combination can also be enhanced with the glitter and gleam of silica chips that sparkle across every square inch of your new floor.
Metallic Epoxy Floor
There's a lot to love about metal and no better place to celebrate the complex tonality of copper, bronze, silver, and brass than in the space dedicated to your tools and cars. A metallic epoxy floor offers all the protective benefits of traditional epoxy -- it's easy to clean, provides protection, and transforms the room from drab to dramatic in a matter of hours. What's even more remarkable is the range of colors, styles, and depths you can achieve with an open mind and consultation with professional garage floor technicians. Imagine the impressive gleam of a copper and gold ombre, the smoky style of pewter, or the flash and class of lustrous gold or bronze. You can even request textural elements like nubs, ripples, or angled grippers.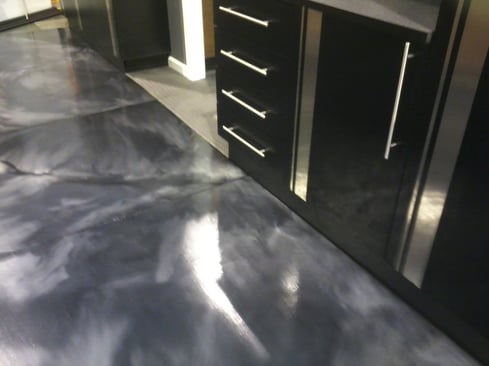 Floor Tiles
Coating with epoxy isn't the only option for a holiday-ready floor. Try tiles instead -- they come in a range of colors and styles, are easy to lay down and lift up, and provide a cushion of support for tired feet. If you accidentally spill a quart of motor oil or other greasy substance, you can replace only the affected tiles and not the entire set. Tiles are also a good option if you want to cover only a portion of your floor. Create a mini-gym with a few square feet of tiles, free weights, and a bench press. Pick and choose your tiles to create interesting color combinations, diamond designs, stripes, or inset frames.
With a new garage floor in place, you can host with pride or just keep clean when lying down to work on the underbody of a new-to-you classic car. Ready to get started on your ideas? Click here to learn more and choose your colors.