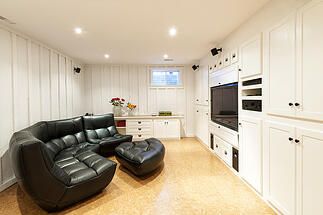 Summer is winding down and winter will be here before we know it. Living in Beantown is wonderful, but we do have long winters. Wouldn't it be nice to have an indoor playroom this year? A room where you and your friends – or the kids and theirs – can get some exercise without donning the parka and snow boots.
If you have an unfinished basement, you've got the perfect space to create your own indoor winter fun-land – complete with a mini basketball court, a full-sized shuffleboard arena or a bright playroom with chalkboard walls and bean bags for the kids.
Bring in the Light – working from the top down
An unfinished basement is drab and dreary. Light choices depend on how you want to use your space. Unless you have a ground level basement with extra windows and doors, choosing light sources is an important first step on your playroom design journey.
There's a lot to think about when selecting light fixures. Illuminating corners and stairwells is important for safety and function. Beyond deciding whether to install directional lighting or recessed fixtures, it's necessary to consider how lumens (the amount of light your bulbs put out) and color affect design choices. A combination of varied light types and fixture styles usually works best.
Set the theme for your space
Once you've decided on lighting, redirect your focus toward the foundation, your floor. Epoxy flooring is not just for garages. You'll want an easy to clean surface that is sturdy enough to stand up to lots of action. And, you'll want to establish your design theme with colors and textures. Our epoxy floor coatings come in dozens of color combinations.
Designing your floor is one of the most exciting and fun aspects of your makeover. You may want a hopscotch pattern for the kids, a free-throw line for shooting hoops or even footprints strategically placed to help you learn the mambo or the latest line dance.
Reinventing your basement is really a personal journey based on how you want to spend your time in this "new" space – and we'll be right beside you every step of the way.
Get organized
Transform your boring basement into a beautiful indoor play space for the whole family. Whether you want to dedicate your lower level to kid-friendly entertainment, or you're looking for a place to "dance the night away," we've got tips and tricks to help you create fantastic, functional spaces that everyone will enjoy.
Our professional organization specialists can help you select storage tools to keep toys and equipment out of sight when not in use and colors and textures designed to brighten the dreariest winter day. Winter is on the way, but that doesn't mean the fun has to stop. Give us a call to get started designing your personal play space today.