The Patriots are enjoying another stellar year. As a dedicated Pats fan, make sure you're ready to follow the team to the postseason.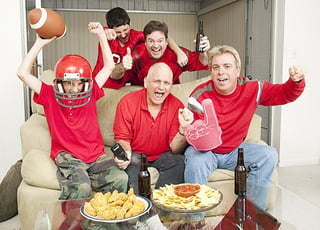 Here's what you'll need. At least in our opinion.
Updated sports information
Don't be the guy (or gal!) who pretends to know more than he really does. Stay informed about the Pats' news both on and off the field. Listen to local sports radio, read local sports writers, follow local blogs and read forums dedicated to true Pats fans.
Dress the part
True Pats fans like to religiously display red and blue all year long, but it's especially important to do so during the playoffs. Purchase your favorite player's jersey to show your true spirit. Or pick up Pats' cold-weather gear to show your loyalty while you're battling frigid temperatures during the cold winter months.
Create the ultimate sports lounge in your garage or basement
Obviously, you need a fun, relaxing place to watch Pats' games with your friends. If you haven't created a man cave complete with a stocked bar, fridge and big screen television, you should get started now so you'll be ready when the Pats make it to the Super Bowl.
Consider creating the ultimate sports lounge in your garage or elsewhere in your home. Think you have too much clutter? Think again. Take back your garage and put it to good use with these garage organization ideas:
Install a garage storage system with wall-mounted garage cabinets.
Install a custom organization system that includes a mini-fridge or even a kegerator. You'll always have cold beers on hand!
Let your workbench double as a bar where you mix drinks for your friends.
Hide a flat screen television behind sliding cabinet doors.
Don't limit yourself to the garage
Don't want to lose space in your garage? Create a man cave in a spare bedroom or basement area using the same elements as you would in the garage. The goal is to create a comfortable area where you can stretch out and be yourself.
Creating the perfect lounge in your garage is easy when you use the right garage storage solutions. Boston Garage has helped many people in create lounge space in their garage. Don't hesitate to contact us for even more ideas and inspiration.