Want to add a man cave to your home without breaking the bank? Look to your garage for the answer.
With custom garage organization, your garage can become so much more than a place to park your car and store your kid's bicycles. You can transform your garage into the ultimate lounge where you can watch a ball game with friends while enjoying a frosty beverage from your own bar.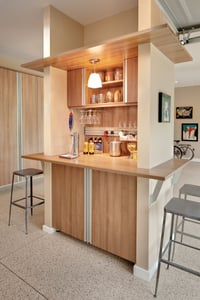 The ideal retreat
A man cave gives you the personal space you need to get through a long work week. It also gives you a place to express yourself by creating the perfect lounging spot. The perfect man cave can include anything from an entertainment center, a sofa, rugs, team memorabilia to a wet bar. And it's very possible to create your own retreat using the right garage storage solutions.
Hide a flat screen television behind sliding cabinet doors. Or mount the TV on the wall and flank it with tall cabinets where you can place the media components. Add a comfy chair and a few posters from your favorite team, and you're one step closer to creating the perfect spot to relax.
Get creative to save space
When creating a lounge in your garage, you may not want to give up your work space. With a little creativity, you won't have to. Let your workbench double as a bar. You can put a wine or beer cooler inside the workbench.
Or install a custom kegerator so your favorite brew is always on tap. Install cabinets above the workbench where you can store your tools as well as liquor, mixers and glasses. Plug in a freestanding ice machine, you're all set.
Want extra counter space so you can serve snacks when friends come over? Install custom storage solutions that can be tucked away when you're not using it.
Don't limit yourself to the garage
Don't want to lose space in your garage? Create a man cave in a spare bedroom or basement area using the same elements as you would in the garage. The goal is to create a comfortable area where you can stretch out and be yourself.
Creating the perfect lounge in your garage is easy when you use the right garage storage solutions. Boston Garage has helped many people in create lounge space in their garage. Don't hesitate to contact us for even more ideas and inspiration.