When the winter weather gets wild, the last thing you want to be doing is sorting through your chilly garage for something that you desperately need. It's always better to prepare for the challenging Boston winters a little in advance -- and one way you can do this is by organizing your garage. Here are four tips for keeping your winter weather items accessible, clean, and convenient.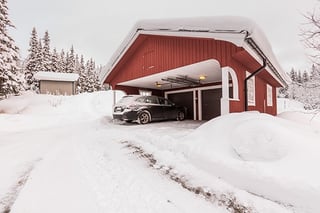 Keep the Garage Floor Clear
In general, you should always avoid storing items directly on the floor of your garage. Wall systems such as custom garage shelving can help you clear the clutter and keep your items safe. During the winter, you'll be driving through freezing rain, sleet, snow, and hail -- and all this will melt directly onto the floor of your garage at the end of every day. Any items that are stored on the floor will get wet, muddy, moldy, and potentially even rusty.
Use Your Wall Space
Wall space is great for a couple of reasons: it keeps your items safe and it makes them easily visible. If you need something, you can see it and grab it in a few seconds. Wall space will keep items off the floor and leave more space for your car. During the winter, you might want to make sure that your "two car" garage can really fit the family's cars, rather than being a "one car and boxes" garage. A wall track system can be used to hang shovels and other important tools, while bulkier items such as sports equipment can be placed safely on custom garage shelving. Hazardous materials such as anti-freeze can be stored out of reach of children at the very top.
Consider Creating a Gear Closet
A garage storage closet is a great place to store your gear. Similar to a mudroom (just for a vehicle), a gear closet will let you unload items from your vehicle into a storage room without having to worry about it being wet or dirty. A gear closet is generally a larger closet that has shelves and open storage, accessed directly from the garage.
Keep Your Supplies Ready
Use sliding wire baskets or install a tilt-out hamper so that you have easy access to the sand and salt that you'll undoubtedly need throughout the winter season. The last thing you want to be doing is fumbling with large containers and sacks when you're late or have other things that you need to do. Sand and salt can also quickly accumulate moisture, and become packed into a single mass: by keeping your supplies in a sliding wire basket, you'll be able to protect it from the elements.
Is your garage winter ready? It may not be, if you just don't have the organizational space. Shelves, racks, hangers, and other storage solutions are absolutely essential to a functional garage. Contact Boston Garage today if you want to learn more about building the perfect winter storage system.