The garage is the room of the house people automatically equate with vehicles. What would happen if the entire identity of a garage could be reworked and revamped? Home value is now driven more by square footage than ever before, and it is time to break the norm and start to expand your imagination about what your garage could be… outside of just a room for cars. Here are the four most interesting ways to use your garage, without thinking about your vehicles.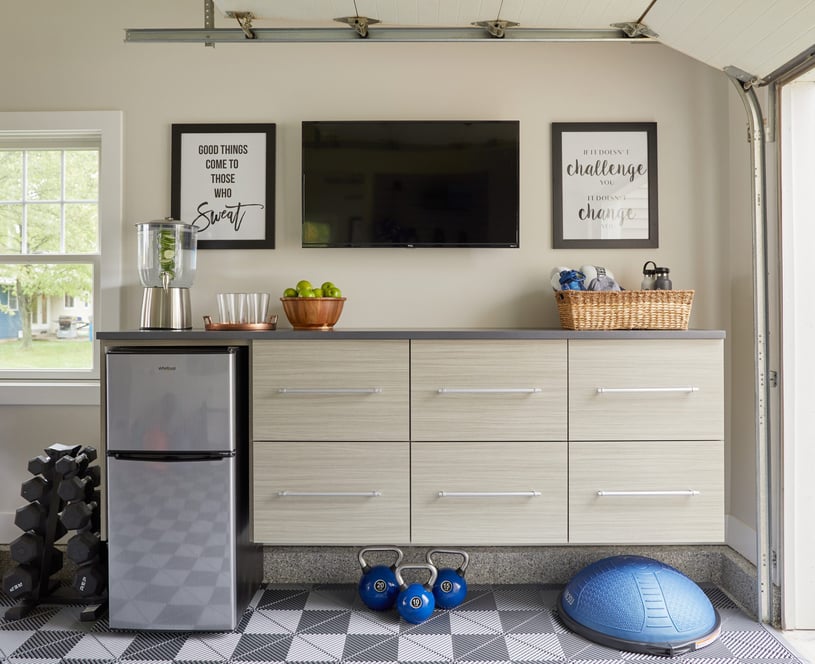 1. Create a space for indoor sports
For those with children, or just with an affinity for being an athlete, you know how hard it is to find clear space to move around in. There is something cathartic about being able to transition directly from your daily life into a space to get your blood flowing. Try to think of your garage as a potential arena, right inside your home. Does your garage have extra high ceilings? Install a basketball hoop! Most garages have plenty of square footage to paint a regulation free throw line. Did you build your walls with plenty of support (think brick, not dry wall), channel your inner Bruin and put down a hockey net for some immediate floor hockey action.
Trying to beat the summer heat? A standard garage has plenty of room to house a small batting cage. Lastly, install a golf simulator so that you can hit the links 24/7 and keep your swing greased up and ready. As sports nuts ourselves, we appreciate that our metallic floor coatings are perfectly smooth and built to hold up to heavy activity levels. Plus, show off your favorite squad with decals and proper color schemes! If a home gym is more your flair, make sure to check out our heavy-duty locking tile flooring. The tiles are non-slip rated, and fully water resistant to help protect the floor base from heavy weights and keep you fully supported on your personal record dead lift.



2. Transform the garage into an entertainment room
If you already have a basketball hoop outside, or if your kids already drive you crazy with their hockey obsession, maybe an alternative-use garage designed for the entire family is more in your corner. There is no better place to turn into a relaxation station than the garage, as it is just a few tweaks away from becoming an entertainment mecca. There is enough room for a bar-standard shuffleboard table or dart board set. Ping pong is no fun when there are walls confining your overhead smash, so drop your ping pong table right in the middle of the garage and you can return even the most impossible angles!
At the end of a long day's work, most people want to plop down and veg-out. Luckily, the garage is just a few furniture pieces away from setting the mood and grabbing the popcorn. Garage walls are perfect for video projection and light fixtures absolutely shine against the reflective surfaces we install, taking your entertainment experience to the next level.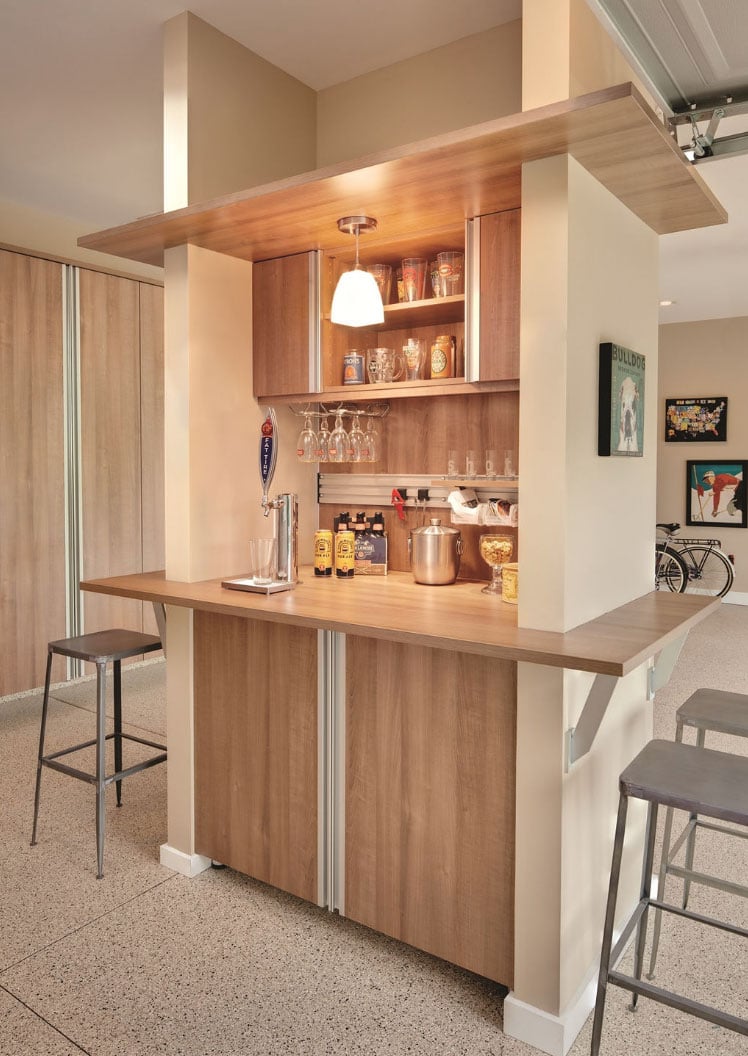 3. Switch up your personal office
Have you heard about COVID-19 and this wonderful (depending on how you look at it) new invention called "work from home?" Though offices are opening back up, the reality is that people are spending more time using their home as an office than ever before. Families grow, and maybe what was once your home office now has a crib or is full of toys…you need a place to focus and practice your livelihood. A garage turned work from home office is even more isolating if your garage is a stand-alone structure. Get that money in a comfortable, dedicated work space! Our custom cabinets are constructed to any desired specifications and aren't just for storing gear or yard tools, you just have to change your mindset. They are perfect as desk space or computer storage. No one likes a printer sitting on their desk, hide it behind a beautiful cabinet door. With video conferences a new part of the everyday work life, it is time to ditch the hastily-rigged home office or (ew) the dinner table work space. Turn your garage into every modern business professional's dream!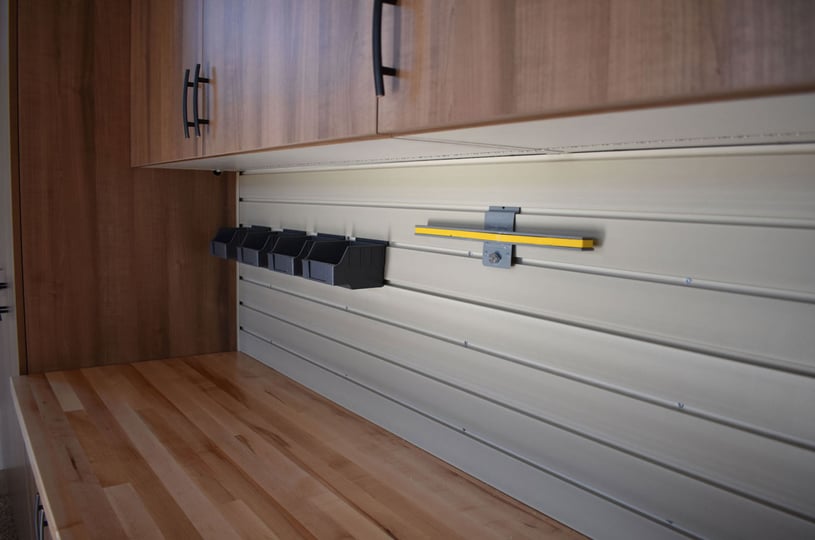 4. Make your garage a creative studio
Our final garage alternative is one that takes advantage of our heavy duty floors and sturdy customization options: the studio. Commercial level garage flooring invokes thoughts of a dirty mechanic's hands, but it might be just as well suited for an artist using acid and oil-based paints. If you handle clay, you know how dirty it can be. You need space to spread out your materials and a floor that can handle it all. For the music artists out there, our slatwall storage options can be built to specifically hold your instrument cables and keep your expensive gear safe and clean, extending their lifespan and saving you money. Plus, your drum kit will never slip on our grippy decorative chip floor coating.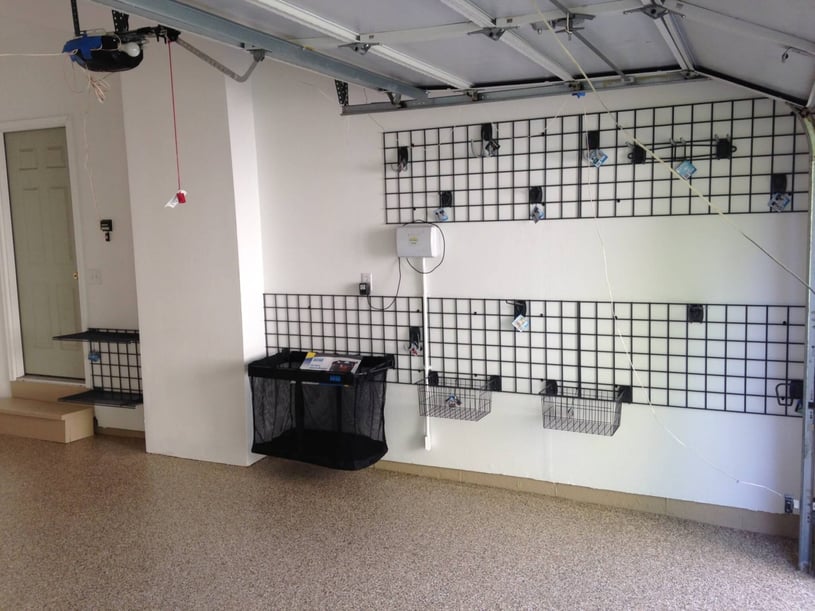 Boston Garage is not in the car business, we are in the garage business, and frankly, we only care about giving you exactly what you need. There is so much value in homes being driven by having a custom garage, that we feel an investment in your garage is also a profitable investment in your lifestyle. Make your home time more relaxing and valuable by trying out one of these alternative garage customizations!