Plenty of people feel like their garages are just too small. However, most homeowners could change this reality if they simply took a new approach to garage organization. These three tips help you to clear out your garage and make it seem much larger and more convenient.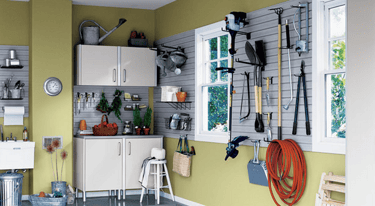 Move Items From Floor to Ceiling
The chaos that is the average American garage floor is beyond compare. You can turn this nightmare into a dream come true simply by moving things off the floor and shifting as much as you can to the ceiling. Your garage's ceiling is a gold mine of useful space for bulky items that you can put in overhead bins. Bid farewell to tripping over your skis, or chasing after loose soccer balls. By taking advantage of overhead storage solutions, you can get this stuff out of the way but still keep it accessible. As the weather gets colder, overhead storage becomes a prime place for accessories for your outdoor furniture, as well as summer sports equipment.
Utilize Wall Storage
Of course, the ceiling may not hold everything you need to put into the garage, and that is where your walls come into play. You have so many options these days for wall storage that you can get exactly what you need. Need a place to put heavy ladders or other equipment? Install durable hooks to keep these things off the ground. Want shelving that creates a workspace for your home improvement projects? Heavy-duty wire shelving provides sturdy support for almost any tool or small appliance. Consider ORG wall for a custom wall storage system that makes room for cabinets, drawers, shelves and hooks.
Keep Small Items Accessible
While the big things take up so much space in your garage, it is the little stuff that keeps getting lost and causing you so much frustration. Make a decision now to build a place for them, so they never get misplaced again. Use a pegboard to put your most-used hand tools right where you need them. Add hooks to accommodate heavier tools you use frequently. When installed appropriately, hooks will hold more than you might expect, including:
hoses
extension cords
bikes
step ladders
The key is to imagine your garage as you use it, and then build the custom storage that fits your needs. It takes hard work and planning to make a garage into a useful room, but the investment is well worth the effort. With a professional garage designer, you get a great garage without having to do it yourself. To see how you can make your garage the room you need it to be, contact us for a free consultation.