Is your garage cluttered with the tools you need to fix the car, repair your home or manage your landscaping? Then you probably have trouble finding the screwdriver you need to fix a loose doorknob or making space to fix your child's bike tire. Take back your space with five unique garage storage ideas that clear your clutter and organize all the tools you own.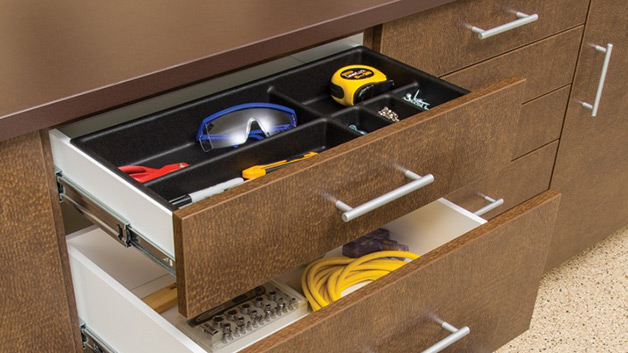 Hang Magnetic Strips
Metal items, particularly small drill bits, nails or screwdrivers, easily get lost among the tool clutter on your garage shelving or floor. Hang magnetic strips on the walls, inside cabinet doors, along shelf edges or above your workbench. The strips keep similar items organized together in one spot and help you quickly find what you need.
Utilize Wall Hooks
Your garage walls transform into efficient storage units when you utilize wall hooks. They hold and sort screwdrivers and other small tools. They're also useful for hanging bins that sort batteries, cords, hammers and other small or bulky items in plain view and within easy reach.
Install Custom Cabinets
Because you have tools in all shapes and sizes, you need storage options to match. Measure your power tools and order custom cabinets in the right sizes. They are sturdy and large enough to hold long power saws and small enough to sort saw blades. You can also choose cabinets that lock so that your kids or neighbors can't access your tools and accessories.
Use Drawer Dividers
Nuts, bolts, tape, socket sets and other small objects are easy to lose track of in your large garage. Keep them organized and accessible when you sort them in drawers. Drawer dividers corral similar small items together for easy access during all your projects.
Hang a Pegboard
Pegboard sorts and organizes all your drills, saws and other tools neatly on the wall. Select several large pieces to cover a wall or hang a small pegboard or two above your workbench. It can organize your tools by category and prevent cords from tangling. You can also use clips or pins to tack maintenance schedules, instructions or other notes that you need as you prolong the life of your tools and complete projects.

Your cluttered garage is history when you use these five tool storage tips. For more ideas and garage organization tips, contact Boston Garage. We offer products, ideas and custom installation that assists you in organizing your tools and creating a useful and clean space you can use year round.