It's springtime! The temperatures are warming up, the days are longer and it's time to break out the gardening tools and spruce up your yard. Do you know where your tools are? Have they been hiding somewhere in the dark recesses of your garage where they've been gathering dust all winter? Are they tossed randomly behind your garage where they're exposed to the elements? Keep all your gardening essentials in easy reach at all times and protect them from sun, wind, and other damage when you install an improved wall storage system.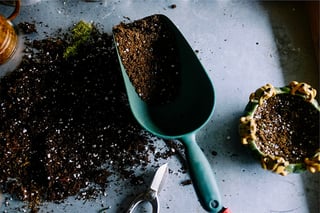 Pegboards
A pegboard is ideal for holding hand gardening tools of all sizes. Customize the size, color, style, and location of this garage wall storage option to meet your garage dimensions and organizational needs. You can also attach hooks, hangers, and baskets to maximize your new organizational space.

Hooks and hangers are easy to attach to the pegboard. Use one for lighter items and several to hold heavy items. Examples of bulky items you can sort and store on pegboard thanks to hooks and hangers include:
Fence posts and supplies that keep pests out or create sections in your garden
Hoses and watering cans
Baskets for collecting flowers or vegetables
Pruning scissors and other tools with handles
Hoes, shovels, rakes, spades, and other essential tools
Baskets are easy to attach to the pegboard. They corral gardening items that are too small to hang securely on hooks alone, such as:
Hammer and nails for fixing fences or pounding in stakes for vine vegetable plants
String that ties bushes and bushy plants together
Small tools like gardening spades, forks, and shears
Seed packets and bulbs
Protective gloves, knee pads, wide brimmed hats, and sunscreen
Cabinets
In addition to a pegboard, you may wish to install custom cabinets. They include shelves and drawers that are perfect for storing items you don't want in the open. Examples of items to store in your cabinets include:
Bulbs that must be stored in a dark space such as a closed cabinet drawer
Fertilizer, weed killer, and other items you want to keep out of reach of your kids or pets
Bags of soil for your garden and lawn
Small tools like your garden fork and spade
Now's a great time to install two garage organization tools that turn your garage into an ideal garden and landscaping station. Contact Boston Garage for assistance in hanging pegboard and cabinets as you transform your garage and hang, store, and protect your essential gardening and landscaping supplies. Before you know it, your garden will be blossoming and your pruning tools will be easier to locate and store than ever before.