Have you ever planned to go camping or fishing in the summer and had excitement turn to frustration because you were unable to find your essential gear in your cluttered garage?
Taking the time to find your specific items from a disorganized garage can be overwhelming and a hindrance to getting out to do the things you love.
Often, garages become a dumping ground for things we no longer want, making it increasingly challenging to find items we need and even park a car.
Don't believe us; believe the stat: nearly one in four Americans say their garages are too cluttered and disorganized to fit their vehicles.
Want to organize your garage in Boston for good this summer? This article will walk you through some easy and effective tips to help turn your garage into a serene retreat this summer.

1. Clean the Garage Before You Start Organizing
Is your garage cluttered with items you no longer need? Even the cleanest garage can have broken tools or expired paint.
The key to a well-organized garage is starting with a thorough cleanout. Listed below are a few easy steps you should follow to a T to have a clean garage:
Take stock of items you have
Discard all irreparable or expired things
Organize leftover items into keep, sell, and donate
Prepare for the garage sale if you plan to sell some items
After decluttering, determine what you'll do with your belongings
Sweep away debris, and if possible, give your garage floor a good wash and reseal
2. Create Zones
When you start a garage makeover, organize your items by categories into easily accessible areas so you can quickly find what you're looking for.
Designate a shelf specifically for tools and car care essentials such as washing fluids, rags, and sponges for the next do-it-yourself car wash.
Also, you can create a separate section in the garage for recreational equipment, seasonal decorations, camping gear, and extra supplies.
This way, everything will have its dedicated place, making your garage more organized and functional.
3. Install Slatwall Storage with Tailor-Made Holders
Using a slatwall is one of the easiest ways to include hanging organizers and storage in garages.
This wall-to-wall garage storage is perfect for heavy-duty, larger items and equipment and can easily be installed anywhere in the garage.
Slat walls allow you to remove or add shelves and hooks, making it easy to customize your storage layout. You can also include slat wall tracks to store baby strollers, ladders, leaf blowers, and much more off the garage floor.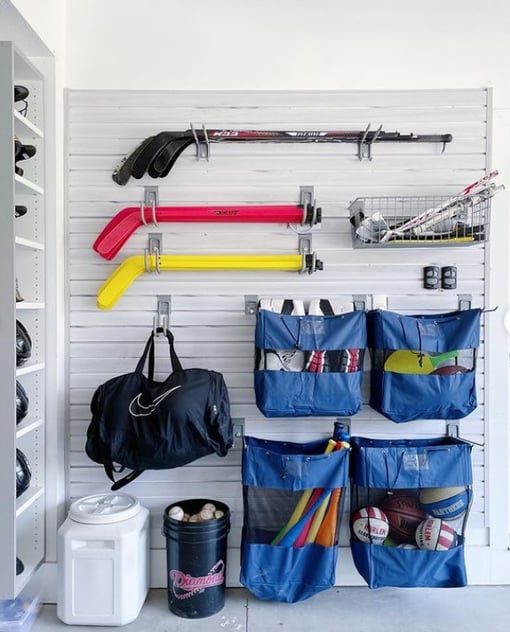 4. Hang a Pegboard
For smaller, lightweight items, a pegboard is a great storage solution. It keeps tools and equipment on the workbench and adding coats and bag racks beside doors.
Customize and organize your items as you like on pegboards by incorporating specialty hooks, baskets, shelves, and more.
5. Create Room for Sports Equipment, Gear, and Balls
Believe it or not, hockey sticks, skateboards, roller skates, and other sports gear consume ample space in the garage.
Make sure to specify an area for sporting gear storage so they remain organized and your loved ones don't fall over them.
Moreover, keep footballs, volleyballs, and basketballs away by hanging nets, baskets, or vertical racks on your wall to keep the garage floor clutter-free.
You can also use slanted wire shoe racks for sports shoes and cleats or wall paneling and various hooks, such as j-hooks and double hooks, to store surfboards, canoe paddles, and other equipment.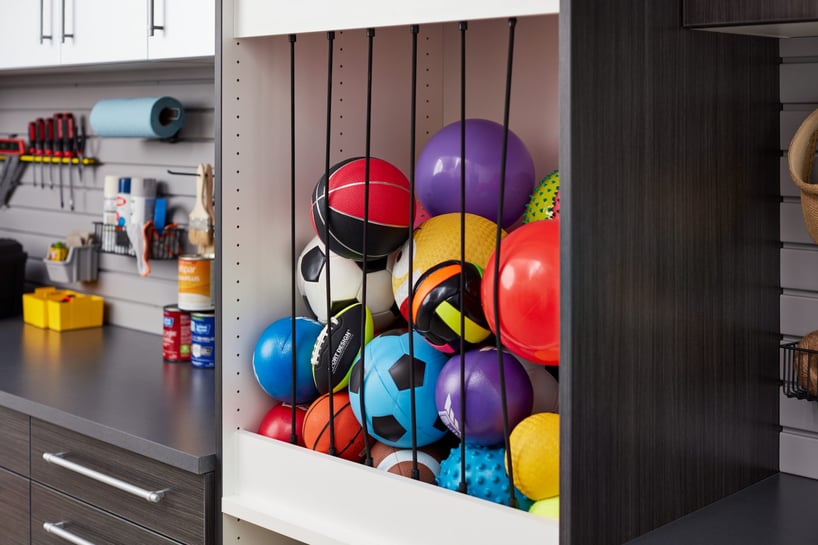 6. Use an Overhead Storage Rack for Bikes
Your outdoor summer sports gear may have gotten lost in your garage during the winter. It's time to bring your sporting gear, especially your bike, where it's easily visible.
One effective way to store your bike is getting it up in overhead bike storage racks to free up floor space. If you need more ideas for bike racks, vertical storage racks are a fantastic option. They help you keep your bikes organized and within reach.
You can also utilize hooks on an existing garage slat wall to hang your bike or invest in motorized bike racks specifically designed for effortless lifting.
These bike storage solutions not only make your bike storage efficient but can also be used for storing kayaks and canoes.
7. Install Wire Shelves
If you're seeking a cost-effective way to organize your garage, then you should use wire shelves rather than cabinets.
This helpful garage storage tip is perfect for keeping various items neatly stored, whether they are seasonal decorations or gardening tools.
Wire shelves offer the durability of metal shelves but without taking up too much space. Whether you opt for wire shelves or metal shelves, make sure there's sufficient clearance beneath them so you can easily sweep your garage floor.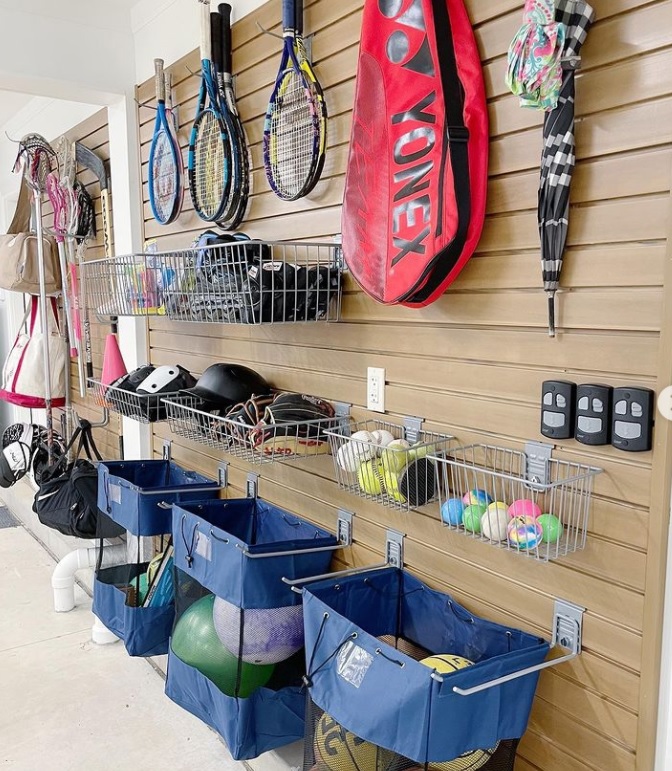 8. Employ Rollout Bins
A rollout bin is a garage storage drawer that you can utilize to prevent oil rags and towels from lying around the garage workbench.
Instead, you can place slideout bins with walls for convenient access to garage inventory. It's especially useful for building a dedicated zone for messy things.
Key Takeaway
Ready to take on your garage organization project in Boston? Follow these easy decluttering steps to make your garage clutter-free and organized for good this summer.
Need help in handling your garage makeover? Look no further than Boston Garage! We're your go-to garage organizers that can help save time and stress and provide top-notch custom-made service.
While it's so much fun to organize your garage yourself, it can be tiring and challenging at times. Why not get your garage professionally organized for good this summer?
Call us at 781-836-5145 to give your commercial space the style and functionality it deserves. You can also schedule a consultation instantly using the calendar below.