Whether you use your garage for storing your vehicle, keeping your tools or simply as a general storage area, it's likely to be one of the most valuable spaces in your home. Now, imagine you could organize everything in your garage so that it is easy to access, in logical order and, most importantly, neat and tidy. Silver Track Systems from Boston Garage allow you to take full advantage of your garage space with smart design and a huge range of customizable accessories.
Silver Track Systems: Your Garage Space Reimagined
Silver Track Systems are the perfect way to declutter your garage, regain valuable floor space and even show off items you are proud of. This all-steel garage organizer offers an innovative, unique track system that allows you to store practically any object, from tools and mountain bikes to ski equipment and cleaning accessories. Expandable, versatile and totally customizable to your individual requirements, Silver Track Systems offer some of the best space-saving solutions on the market today.
Customize With Silver Track System Accessories
With Silver Track Systems from Boston Garage, you get complete control over your garage organizers and how you use them. The system includes a broad range of accessories designed to make life easier, keep everything in its place, and ensure you have everything at hand instantly. Simply clip your chosen accessories to your wall track, configured your way. It couldn't be easier!
Storage Bins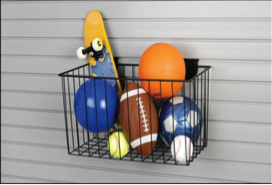 Our storage bins are perfect for those smaller objects that you need to access easily or group together for convenience.
Shelf Bracket
With a shelf bracket installed on your system, you have plenty of storage space for tins, pots, books and any other item that suits a shelf.
Paper Holder Set
Perfect for those messy oil changes or just general cleaning, this paper holder set hooks onto your track, ready when you need it.
Track System Hooks
Our system hooks can be arranged in the most convenient places, giving you handy hanging hooks for those items you need to access easily.
Double Hook
Our double hooks come in a range of sizes and are perfect for grouping similar items together, such as work or gardening tools.
Basket Hook
Ideal for bulkier items such as bicycle helmets, sporting equipment or shoes, our basket hook can be placed anywhere you choose.
Horizontal Bike Hook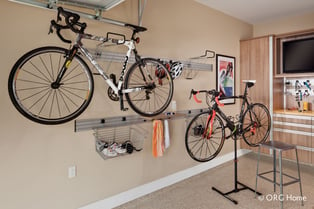 Don't leave your bike on the floor or balanced precariously against other items. Our horizontal bike hook allows you to hang and display your pride and joy conveniently on the wall.
9" Double Hook
If you are looking for a double hook with more depth, our 9" double hook fits the bill perfectly. It's great for organizing gardening tools, and it ensures these bulkier items are tidy and kept where you need them.
Big Tool Hook
The big tool hook allows you to store your power tools conveniently and where they won't get damaged.
Vertical Bike Hook
The vertical bike hook offers the same convenience as our horizontal bike hook, but allows you to hang your bike vertically. It's a great space-saver!
Activity Hook
The activity hook offers the perfect space to hang sports equipment such as racquets, bats or clubs and clips easily into your system wherever you need it.
Hose Hook
Say goodbye to unruly hoses with this convenient hose hook. Simply wind neatly around the hook, and it's ready when you are.
How Will You Use Yours?
Your garage is unique. At Boston Garage, we believe your garage storage should be unique too. Our customizable garage organization systems allow you to use your garage space to its full potential and to suit your lifestyle. With over 200 accessories available, the only limit is your imagination. Revamp your garage with Silver Track Systems. Contact us today!