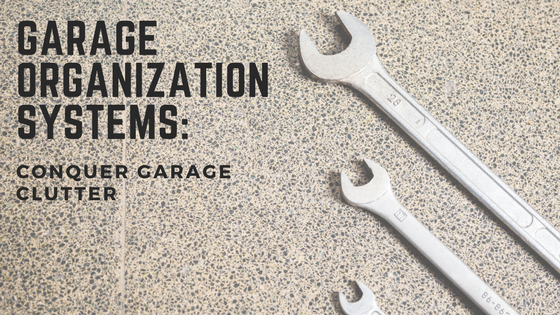 When you look inside your garage, do you feel a sense of pride in knowing that it's well-organized and not a source of embarrassment when you open your garage door? If you're woefully shaking your head, you're not alone: Many Boston home-owners find it difficult to keep their garage organization under control. With such a large space and with such a wide variety of items that must be stored in the garage, you need a dedicated place for everything. At Boston Garage, we provide garage organization systems that turn your garage chaos into a neat and tidy storage space.
When you have the right tools to keep your garage organized, you'll be pleasantly surprised at how much easier it is to maintain your space. If you're having trouble finding the room to park your car in your garage or you find yourself tripping over boxes, bikes and bins, here are some of the products that might help you increase your garage's safety and store everything neatly.
Custom Garage Cabinets
Attractive, easy-to-maintain garage cabinets are a must in most garages. You'll be able to keep your gardening supplies, sports equipment and other items behind closed doors, where they will be safe from dust and insects.
These cabinets feature thick shelving that can bear heavy loads without bending, warping or cracking. They are fully backed, which means you won't lose small items behind the shelves. They can also be wall-mounted them to keep your items safe from water that might enter the garage and to make it easier to clean the floor underneath. Best of all, they're easy to care for: Since they're encased in a thermally fused melamine coating, all you need to do is wipe them down periodically.
Overhead Storage
With all of the floor space available in your garage, you might have forgotten about the storage real estate near the ceiling. Garage organization systems can include racks that are positioned carefully to keep items up out of the way while not interfering with the garage door. Keep your seasonal items or children's outgrown clothing where they won't get in the way.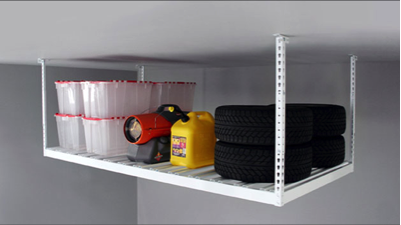 Wall Racks
Are you using the space along the three walls in your garage? Wall panels allow you to do just that. You can use grid wall racks or a silver track system to hang a variety of holders, hooks and accessories from your garage walls.

The panels stay on the walls, and you can configure your accessories any way you want. Clip on hooks to hold items like brooms and rakes upright, slide on bins to hold hardware and other small items, or install holders for everything from canoe paddles to ladders to aerosol cans.
Bike Racks
If you've ever had a close call when a bicycle has nearly scraped your car, you know the importance of keeping your bike up and out of the way. You have several options when it comes to bike racks; you can hang them on the wall or store them overhead.
Garage Flooring
While not strictly a part of garage organization systems, new garage flooring is easiest to put in when you are getting the rest of your custom garage designed and installed. Garage flooring options include tiles and epoxy coatings; your garage designer will help you choose the type of flooring that will be best for you.

Garage organization systems can mean the difference between a cluttered garage and one that is easy to walk through and a pleasure to show off to your neighbors. If you are ready to take charge of your garage, please contact Boston Garage to learn more about our custom garage design and installation services.