Your garage floor is constantly inundated by dirt, debris, motor fluids, and other things that stain and damage it. At the same time, exposure to moisture, grease, and vehicle fluids can make the floors slippery.
And to top it all off, the garage floor can become damaged, uneven, and unattractive with excessive usage and age. Adding a new garage floor coating protects you against all of these issues and enhances your house's overall look, and brings your garage back to life.
DIY coating often seems cost-effective and feasible. However, it all depends on your method of getting a new garage floor coating. Mistakes are common when you decide to go down the DIY route, like applying more layers than necessary or applying incorrect material to the wrong surface, resulting in extra costs.
It is better to get a garage floor coating applied professionally to get the best quality and durability.
Investing in high-quality garage flooring offers several benefits. Here are just a few:
Increase Your Home Value
We all know that home renovations and maintenance can considerably increase your home value. Most people maintain or renovate their entire home but forget the garage flooring. A damaged and outdated garage floor can reduce the home's resale price. That is why upgrading the garage floor is necessary to get maximum home value. By completely revamping the garage flooring, you can increase your home's overall resale price and enhance the curb appeal.
Get An Attractive Textured Surface
As you may have found in your initial research, there are several different types of floor coatings. You can choose custom design coatings to enhance your garage's look while maintaining durability. Here at Boston Garage, we offer a variety of garage floor coatings, such as decorative chip, solid colors, metallic coatings, and garage floor tiling.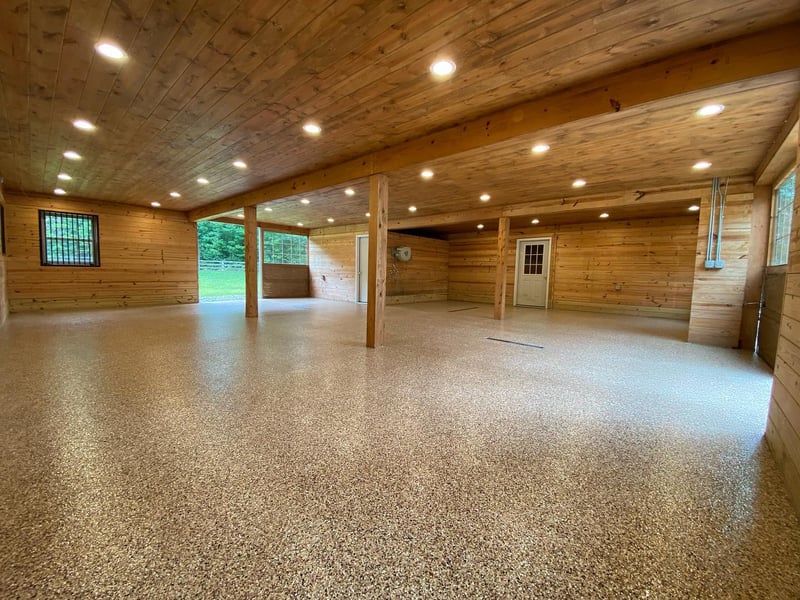 Easily Clean Your Garage Floor
Professionally installed garage floorings are easy to clean. You can be confident that the flooring will stand up to just about anything. You can clean dirt, debris, and other impurities with simple washing methods—all you need is water and a squeegee. For stubborn areas, you can easily clean your professionally installed garage coating with simple ammonia.
You can customize your garage use with the flooring options provided by Boston Garage.
Boston Garage Offers the Highest Quality and Most Durable Garage Floor Coatings
Need help choosing a suitable garage floor coating? Let the pros at Boston Garage handle it. Contact Boston Garage for a top-notch garage flooring job. Our technicians have years of experience in the floor coating industry, and we know the exact needs of your garage floor. Visit our website and get a free estimate.
Frequently Asked Questions
Is this the right company to do this project?
Boston Garage is the company you can trust regarding garage floor coating and protection. We have multiple awards that reflect our professionalism. Read the numerous five-star reviews on our website.
Is there value in doing this?
Yes! As we have said above, the new garage floorings will enhance the aesthetic of your home and increase your resale and rental value.

With proper care and normal use, the floors can last up to 15 years.

As we have said above, DIY coatings can actually end up costing you more due to a lack of knowledge and professionalism. Professional garage floor coating services can save you a considerable amount of time and cost in the long term.