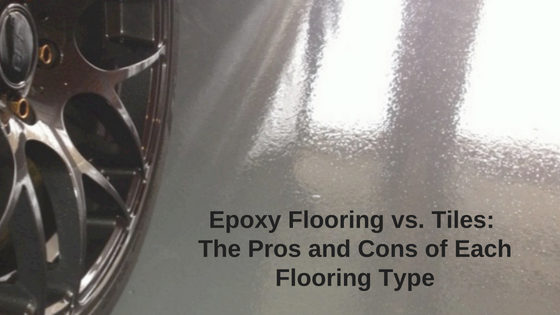 If you're looking to redo your garage, you may be wondering about the best options for you between epoxy flooring and tiles. Both have their pros and cons to be aware of so here is what to expect when making a choice.
Epoxy Flooring
Epoxy flooring is made with a resin. This makes it very resistant to a number of things that would damage other types of flooring such as chemicals, water, heavy items, items being dropped, and normal wear and tear.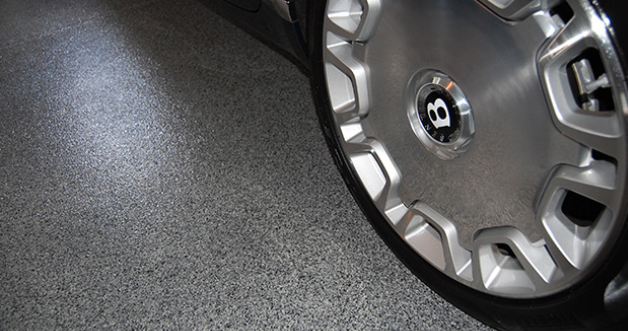 This makes it ideal for a garage floor coating because along with being durable, it has better longevity than other forms of floor covering. In fact, according to Blue and Green Tomorrow:
Epoxy coating lasts longer than many types of flooring. When installed properly, it can last for several decades without cracking or peeling. Besides the durability, its lifespan makes it popular for commercial and industrial use.
The reason epoxy flooring is so ideal for garage flooring is that you won't have to spend a lot of time on its care and yet it still provides an aesthetically pleasing workspace that stands the test of time. You simply sweep or mop the area to keep it clean but keep in mind that epoxy coating is resistant to dust, dirt, and liquid stains - something that other types of flooring cannot compete with.
And with it's ability to withstand the weight of heavy automobiles or equipment, plus being able to withstand impact, it is the perfect solution for your garage floor.
Tile Flooring
Tile flooring is available in a variety of types such as ceramic or stone. While there are some benefits to tile flooring such as choices in styles and colors, tiles are not even in the same ballpark as epoxy flooring.
Tiles have a few disadvantages when it comes to choosing it for your garage flooring. One of the major disadvantages is that tiles easily break if a large object is dropped on them. And another area of concern is that grouting has to be cleaned often to prevent staining.
There is another option with flexible plastic tiles which are more comfortable than ceramic or stone but they are highly susceptible to staining and expand and contract in high heat, as well as when exposed to direct sunlight so expansion room is needed. Plus, they simply do not look as attractive as epoxy flooring.
What's the Final Verdict?
If you compare the benefits of epoxy garage flooring alongside of tile flooring, epoxy wins every time as the best garage flooring. It's durable, non-toxic, lasts for many years, is easy to maintain, and the looks you can create are as many as your ideas. Who wants plain tiles when you can create a distinct look that showcases your favorite team or has colors that match your custom garage cabinets?
Getting Started
If you're ready to get started on creating a garage floor that is beautiful and will last for decades, feel free to contact us for a free quote. We use the highest quality epoxy coating products that are better than anything you can find in a typical consumer marketplace. And best of all, our professionals do the work for you so you can focus on enjoying your new garage floor after we are done.