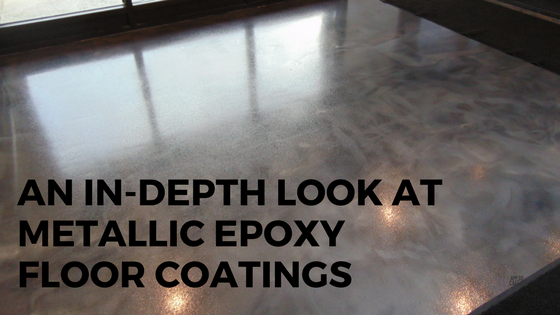 An epoxy floor coating, also sometimes referred to as a resin floor coating, is a flooring solution that can compliment many different types of spaces. Being adhesive and versatile, epoxies have been widely used for crack repair, a primer for other types of floorings and as a topcoat for flooring. Additionally, because they can be manufactured in many colors and are also highly durable, they have emerged as a popular material for floorings in general.
What Are Metallic Epoxy Flooring Coatings?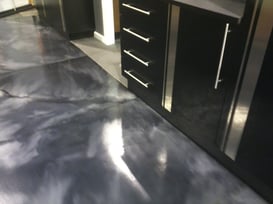 An epoxy coating is typically derived from the mixture of two or more resins or other components. Metallic epoxy flooring contains metallic pigments and components that serve to produce a beautifully shiny and unmatchable metallic look and effect. Metallic epoxy flooring used in your kitchen, garage, warehouse, showroom or other area can produce a dramatic décor effect that can retain its look for many years to come with proper maintenance.
The glossy and light reflective surface of metallic epoxy flooring can greatly change the appearance of any room, and other common types of flooring such as marble or tile simply cannot replicate the effects.
Epoxy Floor Coating Placements
There are a few different methods that epoxy floor coatings can be placed, depending upon the area in which you would like the flooring. However, most methods involve many of the same steps, which include cleaning and curing the surface of the floor of the room, applying a primer, waiting for the primer to dry and then pouring out and spreading the epoxy evenly across the floor. The epoxy will need some time to dry, and then a finish coat or a second coat of epoxy might be applied. It is usually recommended that you wait several days before using your beautiful new floor.
Areas Where You Can Use Epoxy Floor Coatings
An epoxy floor coating can typically be applied in almost any room, but the most common areas are garages, basements, commercial showrooms, lobbies, warehouses or offices. In fact, many businesses are opting for epoxy flooring over more common commercial flooring options because, quite often, epoxy flooring is more durable and cost-effective.
Ceramic tile is a common flooring option in commercial buildings for its durability, but it can also be highly expensive to purchase, install, and repair or replace. Rollout mats in warehouses or other areas can be fairly inexpensive, but just aren't very durable and will need replacing often in high-traffic areas.
For the perfect combination of price and durability, epoxy floor coatings are definitely a good choice, especially with an infinite number of customizable options. However, it should also be noted that installing an epoxy floor coating is a process best left to experienced professionals. At home epoxy kits or those not considered commercial-grade quality simply aren't as good as those provided and installed by industry experts.
Should you desire a smooth, durable, water-resistant and aesthetically pleasing option to further enhance your garage or basement, an epoxy floor coating is a solid choice.
Decorative Garage Floor Coatings
As mentioned above, epoxy floor coatings can be customized to be nearly any color or design. The addition of other pigments, resins or components can create truly breathtaking finishes, such as striking metallic epoxy flooring.
Decorative garage floor coatings are ideal for homeowners who like to do more with their garage than just use it for storage of Christmas decorations and garden tools. In addition to a wide variety of colors and metallic, you can also install a "flake" coating, which can give the appearance of granite or different types of stone. You can also install a coating over tiles specially designed for the process to create tile floor design that is durable and long lasting.
Epoxy Concrete Flooring
Another type of epoxy flooring that you can have installed is epoxy concrete flooring, which is essentially a solid, polished surface that retains the same durability as other epoxy coatings. It also delivers a smooth, aesthetically pleasing finish. Epoxy concrete flooring is applied directly to the concrete in your garage or basement.
Metallic Epoxy Flooring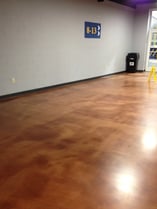 As mentioned above, metallic epoxy flooring is created by adding certain metallic components to the epoxy, which creates a unique floor that delivers dramatic appearance. From sparkling waves to almost 3D illusions of depth, the metallic epoxy flooring you choose can really change the look and feel of a room.
Benefits of Epoxy Floor Coatings
In addition to being cost-effective and durable, there are many other benefits of epoxy floor coatings that make this flooring option a good choice.
Improved durability—Epoxy floor coatings will stand up to heavy traffic over years of use and are resistant to many types of damage. They can rarely be scratched or chipped.
The flooring is resistant to water and spills of other types of materials, ensuring that water and other liquids will not damage, penetrate or stain your floor.
Epoxy floor coatings are also resistant to heat and flame.
Epoxy flooring can be installed so as to create a non-slip surface.
A wide range of colors and designs are available, often with little fluctuation in cost.
Epoxy flooring forms a complete bond to the surface below, eliminating damage from shock.
Epoxy floors do not have to be dull. They can be designed to suit your taste and needs. Contact us today to learn more about metallic flooring options!