If you own or operate a warehouse, you've probably never given much thought to the building's floor. But the floors of most industrial and commercial spaces can really take a beating. Lots of foot traffic, heavy equipment and day-to-day operations can damage the floor and make it look old, worn, dingy and dirty.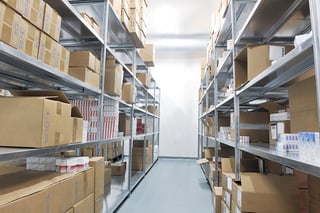 So why not incorporate a floor coating on your warehouse's concrete floors? Thousands of homeowners use an epoxy floor coating to make their garage flooring both functional and aesthetically pleasing. There's no reason this garage flooring solution can't work for your industrial space, too.
What is epoxy floor coating?
Epoxy floor coating
is created by mixing resin with hardener to make a rigid plastic material. The material bonds well to floors, creating a strong, durable surface that won't break down and is very well suited for even the most demanding industrial environment.
Why is it a good industrial solution?
Epoxy floor coating is a
superior garage flooring option for industrial garages, warehouses, and other commercial spaces
. Epoxy will deflect moisture, dust and stains. It holds up well to both heavy equipment and foot traffic.
Plus, it just makes your space look better. Instead of having a dingy concrete floor that's covered in stains, give your business some style with an epoxy floor coating. These floor coatings are available in many colors and styles so your floor can match the custom style of your business.
Are these floors high maintenance?
Concrete floors are pretty easy to care for, right? Just sweep daily and spray them off with water if spills occur. Epoxy floors are also very low maintenance. Once installed, your floor will stay in great shape for years with little to no effort on your part. Spills and stains will wipe right up with a soft cloth. You won't see a trace on the floor. Harder stains may require a squeegee and a mixture of water and white ammonia.

Are they easy to install?
Epoxy floor coatings are very simple and quick to install. Thanks to our new grinding machine we can prepare 1,200 square feet of flooring in about an hour. The epoxy rolls on quickly and left to cure. We'll make every effort to prevent your business's operation from being impacted by our installation process. We'll have you back up and running in no time.

Ready to learn more about Boston Garage's epoxy floor coatings? Contact us today to learn how we can turn your industrial space into a durable show piece.