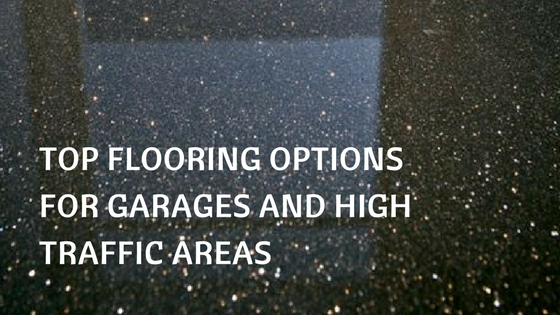 High traffic areas require flooring that can stand up to heavy punishment. Not only do you want your flooring to hold up under pressure, but you want it to match the surroundings in style and function. Fortunately, there are many garage flooring options to choose from. Here are six great alternatives to consider when you're looking for the best garage flooring for high traffic areas.
Hard Ceramic Tile
Among the hardest and most durable types of flooring, hard ceramic tile is easy to clean, resistant to stains, and is a great option for high traffic commercial spaces. Garage flooring tile comes in a wide variety of styles and patterns, making it a good choice for lobbies, conference areas, or kitchens. Hard ceramic is an excellent choice for custom garage cabinets storage, as it resists scratching. But it can be slippery, making it a questionable choice in areas where moisture can be a problem, and the tiles can crack with overuse, making it unsuitable for supporting heavy equipment.
Laminate Flooring
A very popular option for kitchens, entryways, and as flooring for many commercial applications, laminate flooring has many advantages. It is a relatively affordable and durable type of flooring that comes in a nearly unlimited variety of patterns and styles due to the fact that its surface is a high resolution printed image. The visible surface is called the wear layer and varies in thickness of between 6mm and 15mm. The thicker the wear layer, the more durable it will be. Using laminate for a limited area to store custom garage cabinets is a smart option.
Vinyl Flooring
Arguably one of the best types of flooring for high traffic areas, vinyl is both cost-effective and durable. It is relatively soft underfoot and highly durable, making it an excellent choice for a number of applications. Possibly the easiest type of flooring to clean, vinyl only needs a sweep and a light mop to return it to a lustrous shine that lasts. The one drawback is that it does tend to scuff over time, which will lead to noticeably dull areas.
Rollout Mats
Rollout mats are a go-to choice for industrial kitchens and workplaces where traffic is heavy and where people will be working on their feet for long hours. This impermanent flooring option can be easily picked up for easy cleaning. One of the best garage flooring ideas, rollout mats can allow you to use a high-quality flooring in your garage and to protect it with mats when the need arises.
Epoxy Floor Coating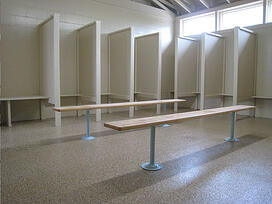 Arguably the most durable type of flooring, epoxy coating will endure high traffic, heavy weight, spills, harsh chemicals, abrasion and more. It can also be quite attractive with its high gloss finish and wide variety of color patterns. Some color patterns almost look like real polished granite, and a number of interesting colors and patterns would be ideal for even luxury environments.
Epoxy garage flooring can be a great choice when you want something that is glossy and beautiful – especially if you want to show off a classic car or transform the garage into a high-quality recreation space. The drawback of epoxy is that it can be scratched or damaged by moisture, which can limit its use in areas where moisture and heavy objects are common.
Natural Stone
Natural stone is arguably the most durable and beautiful type of flooring. Not appropriate for every indoor space, it can still cover a lot of high traffic space to great effect. The porous nature of stone can be a problem, but sealing it will make it virtually invulnerable to most types of damage.
If you have any questions, contact Boston Garage to learn more about your options for the best flooring for high traffic areas.