If you are considering epoxy floor coating for your garage or workshop, it's important to know a few things in advance to ensure that you are prepared for the process and able to completely enjoy the results. There are a lot of reasons to make this the choice for your custom garage flooring. It's a great surface for both residential and commercial floors. You can customize the color to match your decor. No need to worry about stains or spills. This flooring choice is highly durable.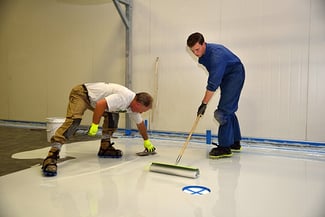 What's involved in installing epoxy flooring?
Epoxy flooring is a job where hiring a professional will get you far superior results to a DIY job. Our installers have decades of combined experience, so you know that you are getting the benefit of years of care and expertise.
A quality installation job starts by preparing the surface for your custom garage flooring. Old epoxy, paint, grease and other contaminants can keep your flooring from adhering well. A commercial-grade grinding tool will be used to remove any debris or grease. Any cracks and pits in your floor can be repaired using a special polymer filler. We test for moisture, which can keep the epoxy from bonding; if moisture is present, a vapor barrier is used.
Primer is applied next. This increases adhesion and builds durability. Next, the look of your flooring is up to you. We can do solid colors or a decorative chip coating to simulate the look of granite or terrazzo. Your floorings can be high gloss or anti-skid for safety.
In general, the job will take just two or three days. Make sure that you are able to give crews access to the area for that amount of time.
What do I do once I have the flooring installed?
Epoxy floor coating is very low maintenance. Once it's installed, there is very little that needs to be done to keep it in top shape for years. Spills and stains should wipe right up with a soft cloth without leaving a trace on the floor. For occasional cleaning and harder stains, use a squeegee and a mix of water and a small amount of white ammonia.
With a minimum of care, epoxy floors can give your garage or workshop functionality and good looks for years to come. Contact us today for a
free on-site design consultation
!