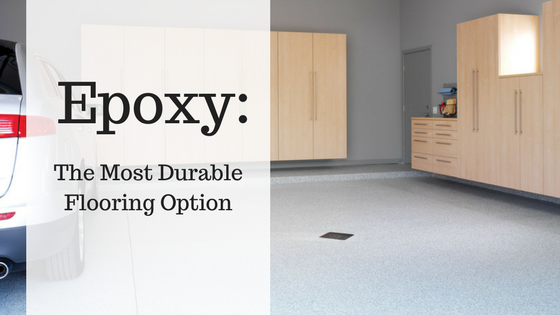 You spend enough time and money replacing things around your home as it is. Appliances break, electronics become obsolete, cabinets and furniture start to look dated, kids destroy things. One thing you shouldn't have to think about constantly upgrading is your floor. When you choose epoxy for your garage flooring, you have the luxury of being able to forget about it. This durable, functional and attractive surface adds value to your house and makes home maintenance just a little bit easier.
Epoxy Uncovered
Before you decide to use epoxy flooring in your home, you should understand what makes this material the best choice for garages and other heavily-trafficked areas.
Epoxy is a coating that's typically applied over a concrete floor. It's a mixture of resin and a hardener. Those parts combine to create a very hard plastic-like material. And like hard plastic, epoxy flooring resists staining, doesn't soak up liquid and is quick and easy to clean.
Epoxy is also one of the most affordable flooring options on the market. When it's applied correctly by experienced pros, it will last for 15 years or more -- adding resale value to your home and ensuring that you get the most out of your investment. At Boston Garage, the installation process typically takes just two days, so finishing your floor with epoxy causes minimal disturbance to your family.
Durability of Epoxy
A chemical reaction occurs when epoxy is applied, which firmly bonds the coating to the concrete underneath. The coating becomes part of your garage floor, unlike carpet or laminate, which sits on top of the concrete and allows water and other liquid to seep in and cause damage.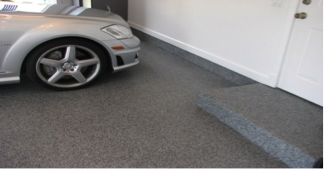 Not only does epoxy resist water and other liquids, but it doesn't scratch or dent easily. Drive cars over it day after day, drop tools on it and let your kids run around on it without worrying that the epoxy will be damaged. In fact, epoxy is so strong and durable that it's commonly used in warehouses, airplane hangars, automotive shops and other businesses where floors take a beating.
Epoxy Placements
Epoxy is a great choice for many different areas of your home. It's often used for garages, because it's durable enough to withstand vehicles driving over it daily. In your home or business, epoxy may be useful in other spaces too.
Epoxy flooring is especially beneficial in basements. The quick installation process helps you convert an unfinished basement into usable living space in just a matter of days. And if water seeps into your basement from leaky pipes or a massive rainstorm, epoxy flooring will resist seepage. Epoxy is also easy to clean. Use a soft brush to sweet dirt and dust off the floor, wipe up spills and clean bigger messes with a foam mop and a mild cleaning solution.
It's smooth, cool and comfortable enough to sit on, making it a perfect flooring choice for a play room or game room. Epoxy is also a durable choice for a mud room or a room where dogs hang out. Their nails won't scratch the surface.
Another feature that makes epoxy such a popular flooring choice? It's available in a wide range of colors, from black to neutral grays to vivid, vibrant blue or green. At Boston Garage, we can even mix custom colors to suit your particular style.
Learn more about epoxy flooring and contact us today to arrange a free in-home consultation!