Simply put, epoxy flooring is one of the most durable and attractive options on the market. Epoxy is a coating made of synthetic polymers, and it sets to look and feel a little like a type of plastic. It's usually used to cover concrete flooring, giving it a smooth finish and allowing it to withstand damage.
Epoxy flooring is a popular choice for garages and basements, thanks to its water-resistant properties. Spills and flooding can destroy some types of flooring, but epoxy creates a seal that protects the floor underneath.
Monetary Costs
The exact cost of your epoxy flooring installation will depend on a few factors, including the size of the space and the finish and texture that you choose. (Did you know that Boston Garage has dozens of colors and textures for you to choose from? Who said garage flooring had to be gray?)
The first step of the process is always a free, on-site consultation with our flooring experts. They'll help you determine the pricing options for your space. Generally speaking, epoxy flooring starts at less than $10 per square foot, and when you consider how many years it will last, you'll probably agree that it's a bargain.
Time Costs
Some epoxy flooring companies will promise to be in and out in one day, but the quality of the flooring suffers when the process is rushed. Boston Garage's installation process takes two days, typically. That's how long is needed to do the job right, because the base coat needs time to cure. Weather will dictate how quickly you can get into the room and start loading your things back in, but typically we ask clients to wait 24 to 36 hours after the process is complete before walking on the floor.
We'll talk you through the epoxy flooring installation process for your specific job before the work starts, so you'll know exactly when we plan to arrive and when we plan to be done.
Epoxy Flooring Benefits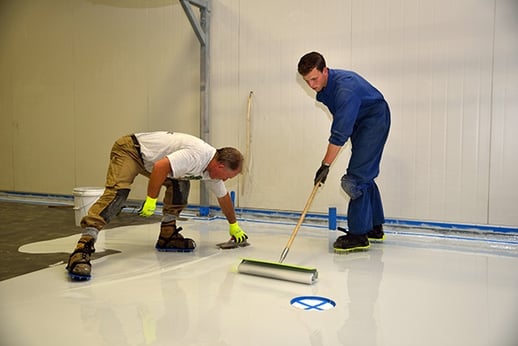 Wondering why you would want to add epoxy flooring to your home? A better question might be: why wouldn't you?
Few things in your home or business will last for 15 years with minimum maintenance. With epoxy flooring, you can focus your energies on handling other responsibilities and trust that the floor will withstand the test of time with little care from you.
Because it's practically waterproof, epoxy flooring is super easy to clean and maintain. Just as water won't seep into the floor, neither will oil or other staining liquids. Sweep, mop or scrub it with a soft brush — as long as you keep abrasive cleaning products off the floor, your epoxy surface can stay looking new for years.
It's durable enough that warehouses and airplane hangars are often outfitted with epoxy flooring, so your epoxy floor is safe no matter what purposes you use your garage or basement for. And with the wide variety of colors and textures that Boston Garage offers, you can use this flooring option to add some personal style to your space.
Want to learn more about epoxy flooring? Contact us today!