What do you do with misfit items that come your way? You don't want to throw them out, so you toss them into the garage and call it good. If this pattern continues, your garage will soon be piled high with a messy combination of useless junk and important tools. You might not even have room to park your car before too long!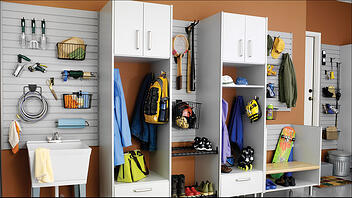 Don't let the garage be a catch-all zone for items you don't know what to do with. Instead, take steps to maximize storage space in your garage so every item has a home and you can easily find what you're looking for when you need it.
Clear the Floor
The first step is to assess what you're currently storing in the walkway and if there's anything you can move elsewhere. Floor space is at a premium because only large, commonly used items belong on the floor. Of course, these items – such as bikes, lawn mowers and trash cans – take up space quickly, so it's important to store as many belongings off the floor as possible.
The solution is to install garage shelving, cabinets and racks on side walls. You have some leeway to work in these areas and still have room for your car. Decide how much of each storage solution you need depending on what you plan to store.
Hide Away Hazardous Materials
Cabinets and drawers are ideal for hiding items you want to keep out of reach of children and pets, such as power tools, hedge trimmers, cleaning supplies, paint, pesticides and anti-freeze. Be sure to choose scratch- and stain-resistant cabinets if you plan to store these types of sharp items and chemicals inside.
Close cabinet doors and drawers and attach locking mechanisms so curious kids and animals can't accidentally run across them. Some cabinets even have built-in locks for secure storage.
Keep Other Items Accessible
Not everything needs to be stored under lock and key. For some items, quick accessibility is more important. With shelves and wall racks, items are stored off the floor, but they're still ready to grab at a moment's notice.

Shelving is good for storing items you want to reach easily, such as sporting supplies, gardening gear, coolers and storage bins filled with various belongings. Wall racks are useful for attaching hooks and hanging items along the wall. These items tend to either be very small, such as hand tools and hardware or very large, such as rakes, bikes, garden hoses, folding chairs and ladders.

If you're ready to maximize storage space in your garage, please schedule a free on-site design consultation with the experts from Boston Garage to get started.