Quality garage flooring doesn't require sacrificing style for function. There are a number of custom color and texture options to fit every style, no matter what your tastes. Instead of boring, go for bold, elegant or just plain fun. Here are a few of our favorite color options.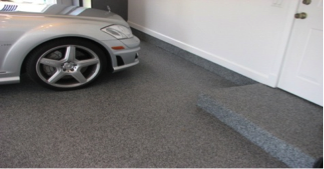 Neutral Colors with Decorative Chip
This flooring offers the look of high-end granite in a highly durable floor covering. A great choice for showrooms and outdoor entertaining areas, neutral colored decorative chip gives you elegance and durability without sacrificing either.
Bold Colors and Decorative Chip
Does your garage double as your man cave? You can increase your home's living space by transforming your garage an inviting place to work on projects, shoot some pool or watch the game. Make it into an inviting lounge with standout colors like Storm Blue or camo green. Distinctive flooring allows you to craft a space as unique as you are, with a floor that stands up to spills and traffic and still looks great.
Epoxy Concrete Flooring
The high gloss of an epoxy floor adds flair to match any home or business style from retro to modern. This coating stands up beautifully to spills, foot traffic and other heavy use, retaining its great looks even in high traffic areas. And, with a wide range of hues, you can match or complement any color scheme.
Garage Floor Tile
Tile is a colorful and durable option for indoors or out. This flooring is easy to keep up and adds a warm and elegant feel to your space. Choose neutral hue for a subdued look, or bright and kicky options like racing red, island blue or turf green to set off your space with a vivid splash of color.
Commercial Garage Floor Coating
When you install a commercial coating, you get a beautiful and functional floor that lasts for years. This coating is great for heavy traffic areas and stands up well to hard use in garages, shops and other commercial spaces.
The choice you make about your garage floors can pull this space together and give it a polished and welcoming look. Plus, our high quality, durable coatings and floorings keep your space looking well put together for years with minimal maintenance. We have years of experience installing garage flooring in all kinds of environments. Call us today to start making your garage attractive, functional and inviting.